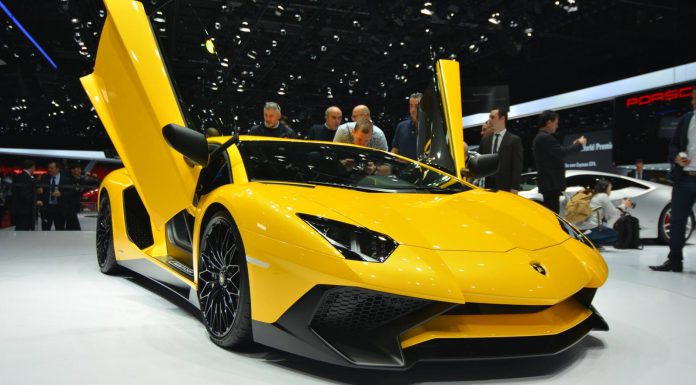 The Lamborghini Aventador LP750-4 SV has been displayed at the Geneva Motor Show 2015 following its announcement at at the annual Volkswagen Auto Group night. The Aventador gets upgraded looks, performance and price tag! The car has been eagerly anticipated and certainly has not disappointed the media and attendees at the show.
The Lamborghini Aventador LP750-4 SV's 6.5-litre V12 engine gets a modest power boost of 50 hp together with a weight reduction of 50 kg. The top speed is now 217 mph and the 0-62mph time drops from 2.9 seconds to 2.8 seconds. Torque remains at 507 lb ft at 5,500 rpm and peak rpm rises to 8,500 rpm.
As you can see, the changes are not only under the skin. The Lamborghini Aventador LP750-4 SV has sprouted some new fangs in the form of new front bumper with aggressive front air intakes and a new body coloured splitter bar. The side skirts are also new and this particular SV gets a contrasting black look with SV badges just ahead of the rear wheel. The rear is reminiscent of the Gallardo refresh and gets a trapezoidal rear facia with a new diffuser and an aggressive rear spoiler, these changes cluminate to make the SV a lot more aggressive than the Aventador on which it is based.

Reducing weight was a key element in the construction of the SV. The weight reduction is acheived through the use of carbon fibre for parts including the engine bay cover, rear wing, wing panels, interior door panels, bucket sports seats and air intakes. Carpets and noise insulation have also been taken out, as has the multimedia system which can be put back in at no extra cost.
To further differ SV from the standard Aventador, the SV wears all-new centre-locking, lightweight alloy wheels measuring 20 inches at the front and 21 inches at the rear. Carbon ceramic brakes and Pirelli P Zero Corsa sports tyres come as standard.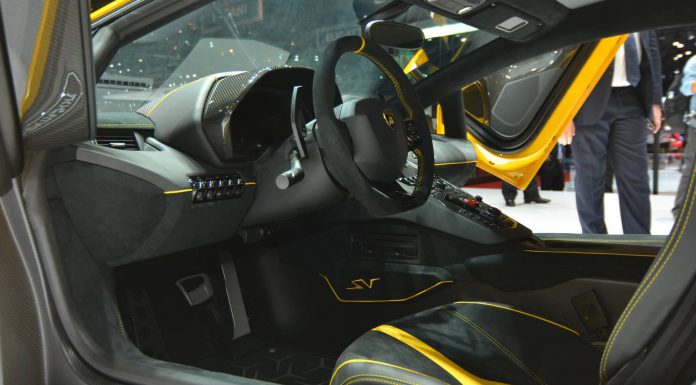 For all the latest from the Geneva Motor Show 2015, take a look at our dedicated news feed or follow us on Facebook, Twitter, Instagram or Google+.