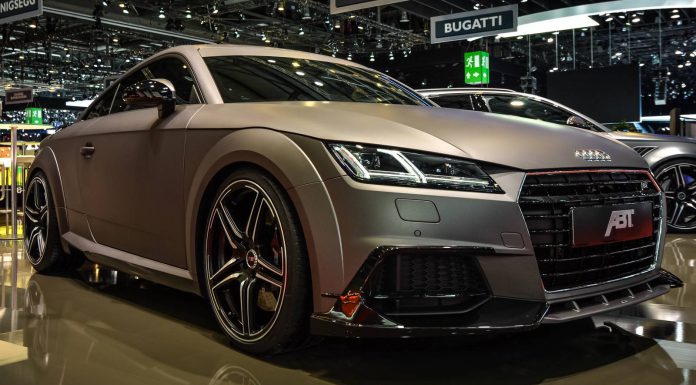 We caught up with the ABT TT here at the Geneva Motor Show 2015. The ABT TT is a car we first saw back at the Essen Motor Show 2014. Since then, it has received a new colour scheme. We are told that this car has been wrapped to its gunmetal grey colouring. We caught up with the Geneva show car for a closer look.
The four-cylinder turbocharged 2.0 litre engine is uprated from 230 hp to 310 hp and 440 Nm of torque. The power is released through a revised ECU tune. What's also important is that ABT offer 2 years warranty up to 100.000 km from the date of the first registration.
The ABT sport brake system has been fitted with 6-piston callipers and 370 x 35 mm discs. ABT suspension springs and stabilisers are also part of the package and 20 inch ABT FR alloy wheels get Continental tyres in 255/30 R20.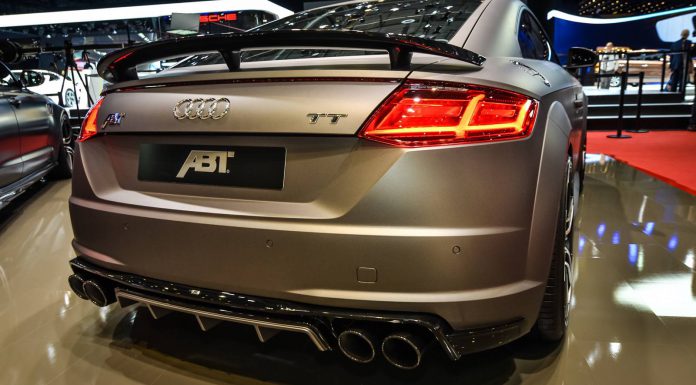 The body kit gets a new front skirt add on with an offset spoiler lip. New mirror caps get the ABT logo. At the back, the ABT TT gets a fixed rear wing and rear skirt insert. The final part of the package is an ABT exhaust system with black tailpipes and lasered ABT logos. All in, the ABT TT looks like a TT-RS could do!

For all the ABT TT details, take a look at our earlier post. For all the latest from the Geneva Motor Show 2015, take a look at our dedicated news feed or follow us on Facebook, Twitter, Instagram or Google+.