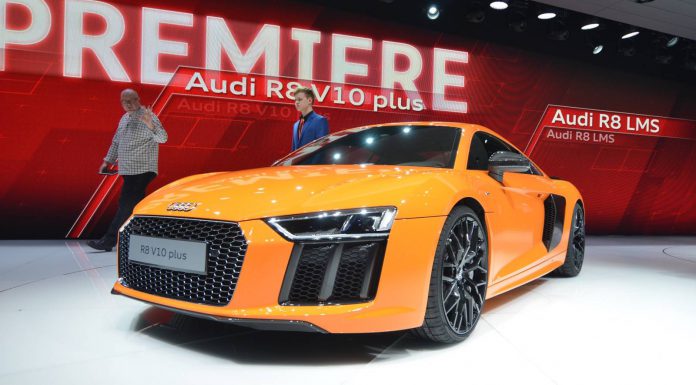 The new Audi R8 is one of the highlights at the Geneva Motor Show 2015. The next-generation mid-engined Audi R8 builds on the success of the first generation model. It comes in three versions a V10, a V10 Plus and an e-tron. We took a look at all three, live on the Geneva show floor!
The new Audi R8 receives a fresh new look when compared with the outgoing model. Overall though, the new Audi R8 is evolutionary in design, rather than revolutionary. The R8 gets a new front bumper with new air intakes, a new grille and a new headlight design. The side blades have been trimmed and the wheels sink deeper into the bodywork.
Audi R8 at the Geneva Motor Show 2015
At the back, the new Audi R8 gets a more angular design with larger mesh panels, a new tail light design, a complex rear diffuser and, for the V10 Plus, a rear spoiler. It comes with 19-inch wheels as standard with 20-inch wheels an optional extra.
In terms of power. The base V10 model gets the 5.2-litre V10 engine with 540 hp while the Audi R8 V10 Plus pumps out 610 hp and 560 Nm of torque. The all-electric R8 e-tron delivers a total of 455 hp and 920 Nm of torque. The V10 is capable of 0-100 km/h in 3.5 seconds whilst the V10 Plus manages 3.2 seconds and the e-tron, an incredible 3.9 seconds.

The Audi R8 is fitted with a new Audi Space Frame which uses a mixture of carbon fibre and aluminium. It weighs around 50 kg less than its predecessor which makes it more efficient. The interior received a complete redesign too with a floating dashboard and three central control elements of the air conditioning system. The MMI system is now incorporated into the drivers dials.
Sales of the new Audi R8 start in summer 2015. Prices start from 165,000 euros for the R8 V10 and rise to 187,400 euros for the top-of-the-range R8 V10 plus. For all the official details of the new 2016 Audi R8, take a look at our earlier article. For all the latest from the Geneva Motor Show 2015, take a look at our dedicated news feed or follow us on Facebook, Twitter, Instagram or Google+.