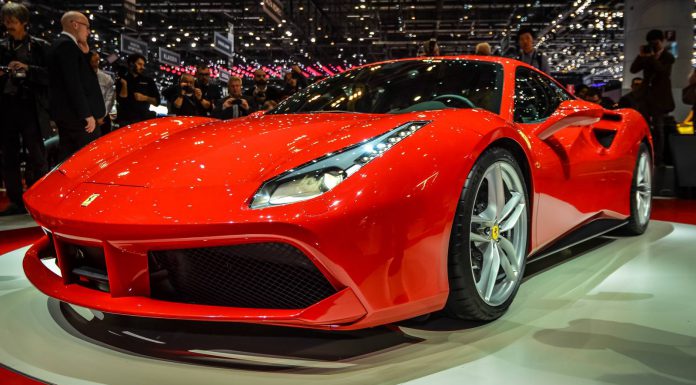 The Ferrari 488 GTB is on display here at the Geneva Motor Show 2015. The 488 GTB is the highlight at the Ferrari stand this year. It is the much anticipated replacement for the Ferrari 458 Italia. As the name suggests, it builds upon the performance credentials of that car in a number of key areas. We took a closer look!
As with the rest of its bloodline, the Ferrari 488 GTB is a mid-engined supercar. The key talking point is the a 3.9 litre twin-turbocharged V8, the first turbocharged mid-engined Ferrari since the legendary Ferrari F40. The engine is of course shared with the Ferrari California T unveiled last year. The 488 GTB's unit features an extra 100 hp for a total figure of 661 hp.
Performance is expected to be jaw dropping. 0–100 km/h (62 mph) in just 3.0 seconds. 0–200 km/h (120 mph) in 8.3 seconds. Overall, the car is capable of a top speed of over 330 km/h (210 mph). 10 km/h (6 mph) faster at the top end than the McLaren 650S, it's closest rival.
As has been the modern Ferrari trend, the design work has been carried out in-house. The Ferrari 458 GTB is more of an evolution than revolution. It gains aerodynamic scoops at the front and air vents at the side. In all honesty, it looks like a smaller, slightly melted version of the LaFerrari.

Interestingly, the name is a break from recent tradition. The Ferrari 458 Italia got it name from the 4.5 litre V8, the 488 GTB reverts back to V12 tradition with its name derived from the capacity of one cylinder (488cc). This could be an excuse to give the car a larger number than the previous model, or it could indicate an impending product range reorganisation…
To find out more about the Ferrari 488 GTB, take a look at our earlier article. For all the latest from the Geneva Motor Show 2015, take a look at our dedicated news feed or follow us on Facebook, Twitter, Instagram or Google+.