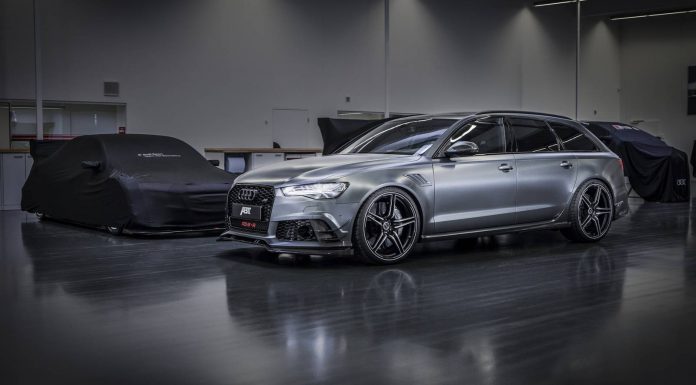 The facelifted ABT Audi RS6-R is set to debut at the Geneva Motor Show 2015 and will be based around the facelifted Audi RS6 Avant introduced at the conclusion of last year.
The only points of visual differences between the facelifted Audi RS6 Avant and the pre-facelift are slightly modified bumpers as well as different headlights and taillights. Alongside these elements, ABT has installed its beefed up bumper incorporating new canards and a lowered and extended front splitter.
Elsewhere, an eye-catching rear diffuser has been fitted to the facelifted ABT RS6-R as well as a prominent roof-mounted rear spoiler. The new ABT RS6-R set to be displayed at Geneva also features a special Daytona grey matte paintwork.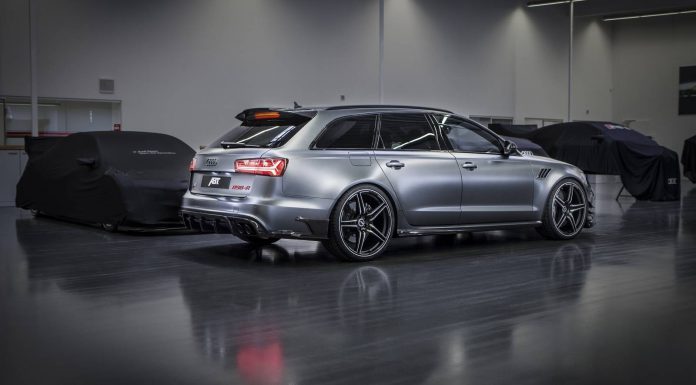 As a reminder, the ABT Audi RS6-R gets a power boost applied to the 4.0 litre V8 engine. ABT fit a 730 hp power upgrade, up from the standard 560 hp. Torque rises from 700 Nm up to 920 Nm meaning the ABT Audi RS6-R will now hit 320 km/h. The extra performance comes courtesy of an ABT Engine Control unit, specially developed software and a specially adapted stainless steel exhaust system – including a Y-pipe and sport-type catalytic converter.
Elsewhere at the Geneva Motor Show 2015, ABT will put on display its upgraded Volkswagen Passat and Audi TT.
[showhide]
"The "Daytona grey matt" paintwork of the ABT RS6-R to be shown in Geneva says it all: with
730 hp/ 537 kW this estate's engine is more powerful than the NASCAR racers over there in
America. And its top speed of 320 kph is also quite something. But all these potent figures
should not let us forget that the new ABT RS6-R is also a visual highlight. After all, the car is
based upon the Audi RS6 facelift presented at the end of 2014. "On this fit occasion, with new
lamps for example, our extensive body kit really comes into its own," says Hans-Jürgen Abt,
CEO of the globally largest tuner of cars produced by the Volkswagen Group."
"The matt wrap in "gunmetal" makes the new Audi TT come into its own. Combined with the
body parts by ABT Sportsline the sport coupé from Ingolstadt becomes as assertive as it
becomes a super sports car. "And this means there has to be power and performance," says
CEO Hans-Jürgen Abt: "With this exhibition model we show how much potential there is
even in the 2.0 TFSI quattro, which we have upgraded to the level of the production TTS."
The four-cylinder turbo is uprated from 230 hp/169 kW to 310 hp/228 kW, with maximum
torque at 440 Nm (serial version: 370 Nm). And thanks to the ABT sport brake system with
6-piston callipers (disc size: 370 x 35 mm) you can slow down very fast too. With its
successful set-up the TT also proves that the shortest distance between two points may well
be a straight line, but that real fun is found taking bends. ABT suspension springs and
stabilisers see to it that the driver does not have to bother with balance and agility matters.
The car is perfectly connected with the road by 20'' alloy wheels in the new ABT FR design
with Continental tyres in 255/30 R20."
"The new generation of the Passat, B8, does even top its predecessors, certainly in terms of
elegance and performance, and has won almost any test. But this model is certainly no swot
but rather a car people take a shine to right away – especially in combination with the
extensive styling and performance package by ABT Sportsline, the globally largest tuner of
cars produced by the Volkswagen Group.
In terms of performance, this package from Bavaria really adds a lot. Thanks to ABT Power
New Generation the original 240 hp/ 176 kW diesel now shows 280 hp/ 206 kW. "With our
specially developed ABT Engine Control unit with its own software, this latest uprating
provides utmost power, balance and dependability," says CEO Hans-Jürgen Abt: "Extensive
tests on our own dynamometer and on the road and comprehensive follow-up warranties
attest to our product's quality.""
[/showhide]