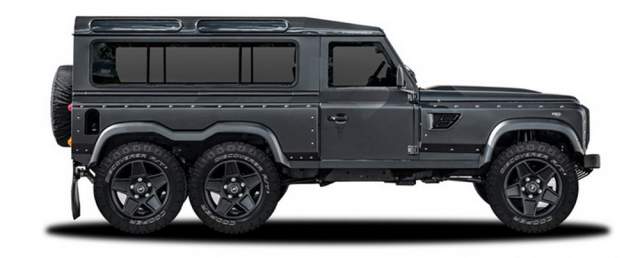 At the Geneva Motor Show 2015, Kahn Design is set to introduce a special stretched 6×6 variation of the rugged Land Rover Defender. The car will be officially dubbed the Kahn Design Flying Huntsman 110 WB 6×6.
Powering the Flying Huntsman 110 WB 6×6 will be a General Motors sourced V8 engine displacing 6.2-litres and delivering a total of 430 hp. As you'd expect, that power is sent through all six-wheels via a six-speed automatic transmission. Helping to ensure the customised Land Rover Defender is as capable off-road as possible, a hi-lo ratio drive system has been installed alongside a number of locking differentials.
Elsewhere, Kahn Design has worked on an upgraded braking system for the Defender as well as a tweaked suspension system.

Overall, the Flying Huntsman 6×6 has been stretched by 1.2 metres and the car is also 150 mm wider than the standard car. That extra length comes through the 400 mm lengthened bonnet as well as an 800 mm extension for the rear of the British off-roader.
Be sure to stay tuned to GTspirit in the coming days when we report live from the Geneva floor!