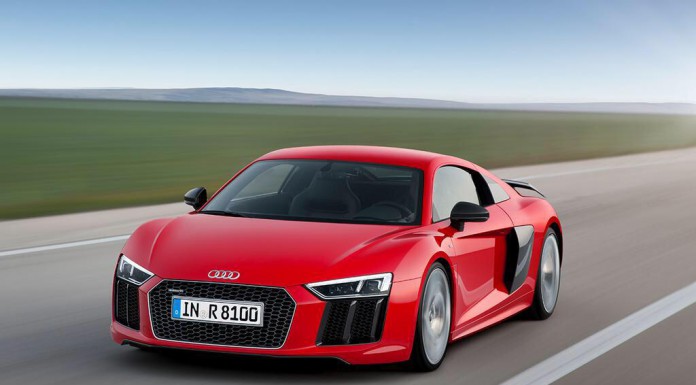 The first official photo of the 2016 Audi R8 has just leaked online courtesy of a Spanish publication. The image is believed to have leaked following the distribution of embargoed images and details about the new R8 to journalists around the world. The car will debut at the Geneva Motor Show 2015.
As no details have leaked, it is not yet known which Audi R8 variant is featured in this picture. With that being said, the presence of a prominent rear wing indicates that it will be the range-topping Audi R8 V10 Plus variant.
Visually, the second-generation Audi R8 is certainly an evolution over the outgoing car but not a complete revolution at least from the front-end. With that in mind, it is still recognisable as an R8 but the grille, air intakes and headlights have been completely revised and are brand new. The side profile looks very similar to the current car with one notable absence being the Audi R8's rather iconic side blades. Previous rumours indicated that the side blades would be ditched so we're not surprised by their absence on the final product.
Interestingly, a number of technical specifications about the 2016 Audi R8 are already known. For starters, it will be initially available in V10 and V10 Plus specifications. The 'standard' 5.2-litre V10 will deliver a total of 532 hp at 8000 rpm and 540 Nm of torque at 6500 rpm while the R8 V10 Plus believed to be pictured will use the same engine but tuned to deliver 601 hp and 560 Nm. As a result, it should hit 96 km/h in just 3.2 seconds and a 330 km/h top speed!