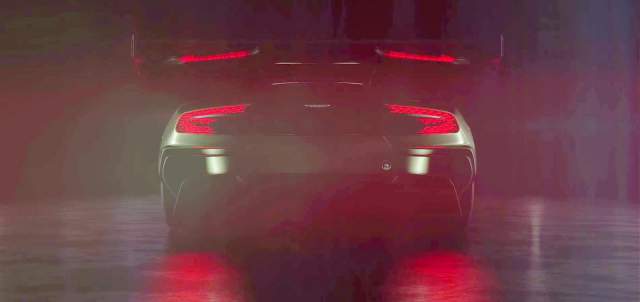 Aston Martin has released another video teaser for the upcoming Vulcan set to be released at the Geneva Motor Show on March 3.
The Vulcan is said to be the British marque's most extreme model to date and will be limited to track-only use as a result. The Vulcan name is said to be a direct homage to the British Vulcan jet bomber. The new Vulcan will be one of the last Aston Martins to use a naturally aspirated V12 engine. The next generation of Astons have been confirmed to ditch the V12 in favour of twin-turbo V8 engines.
[youtube]https://www.youtube.com/watch?v=ktD_ueZtReg[/youtube]
The teaser video above gives us the best look at the Vulcan to date, highlighting a massive rear wing and aggressively styled rear fascia. If you look close enough you can also spot side exit exhausts.
The car is reportedly being built to rival the likes of the Ferrari FXX K and McLaren P1 GTR. Production will be capped to 30 units or less, according to reports.
Aston Martin has not confirmed which engine will be used in the Vulcan, although rumours suggest it could use a tuned version of the 7.3-litre V12 used most recently in the One-77.
The Aston Martin Vulcan will be revealed to the public on March 3 at the Geneva Motor Show.