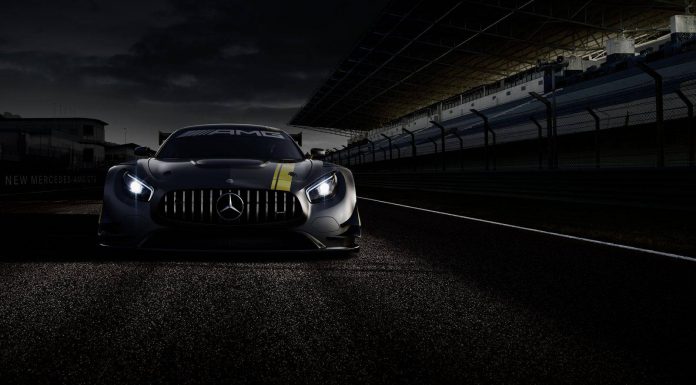 The latest teaser image of the 2015 Mercedes-AMG GT3 racer set to debut at the Geneva Motor Show 2015 has been released.
Unlike the first teaser images which were simply sketches, this one is a photo of the Mercedes-AMG GT3 looking menacing on a racetrack. Compared to the road-going AMG GT and GT S, a plethora of visual changes are immediately apparent for the GT3 race car.
For starters, the front grille has been transformed to now feature eye-catching chrome vertical slates. Elsewhere, an extended splitter can be seen alongside two carbon fibre canards on each side of the bumper. Additionally, the Mercedes-AMG GT3 clearly features a revised bonnet and from this angle, we can see the large rear wing peeking out from behind the roof.
With this, the second customer sports car to be developed by Mercedes-AMG, the Affalterbach company is seeking to build on the success of the SLS AMG GT3 and further expand the customer sport programme. The superb racetrack performance of the road-going GT featured below forms the ideal basis on which to model the new Mercedes-AMG GT3, to be unveiled in Switzerland.
The road-going Mercedes-AMG GT is the second sports car developed entirely in-house by Mercedes-AMG (the SLS AMG being the first). It has a front mid-engine layout and features the newly developed AMG 4.0-litre V8 biturbo unit with 462 hp in the Mercedes-AMG GT and 510hp in the Mercedes-AMG GT S model.