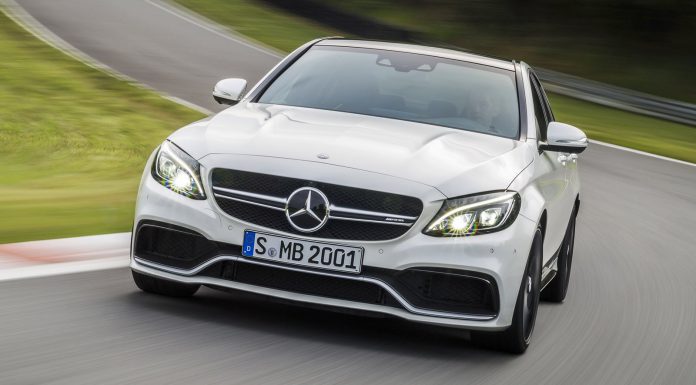 It has emerged that the 2015 Mercedes-AMG C63 could prove the company's highest selling ever model when customer deliveries commence this year.
This is despite the fact that in the United Kingdom at least, the entry-level Mercedes-AMG C63 commands a 3620 pound premium over the BMW M3 sedan. Importantly however, the twin-turbocharged 4.0-litre V8 engine of the Mercedes-AMG C63 produces 469 hp and 479 lb-ft of torque in base-spec compared to the 425 hp of the M3/M4 duo.
A total of 40,000 examples of the previous-generation Mercedes-Benz C63 AMG were sold, and the German firm is hoping to attract more buyers for the new model.
The Mercedes-AMG C63 S is then ever more potent. It delivers a total of 503 hp at 5500 rpm and 516 lb-ft of torque from 1750 to 6250 rpm. This is even more power than the old C63 AMG 507 Edition which delivered 500 hp and 450 lb-ft and is in line with the AMG GT S. Alongside the additional power of the latest generation car, it also weighs less than the outgoing model by 15 kg in sedan guise. All up, the potent C63 S delivers 304 hp per tonne with it tipping the scales at 1655 kg.
When it is all said and done, the new 2015 Mercedes-AMG C63 sprints to 100 km/h in just 4.1 seconds in sedan guise. Meanwhile, the C63 S reaches the same mark in 4 seconds flat.
When it is all said and done, it hardly seems surprising that customers will come in their droves for the updated C63.
[Via Motoring]