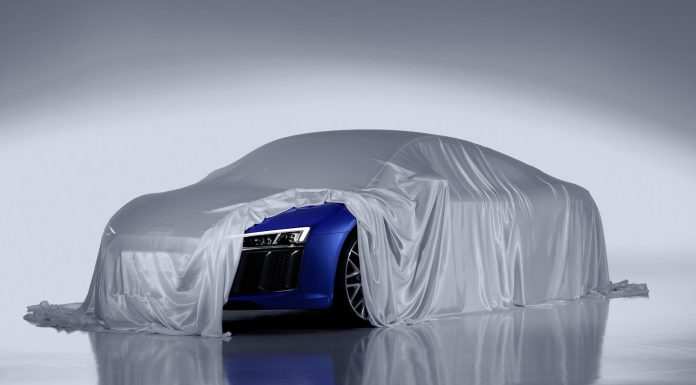 Autocar has been able to find out all of the technical details of the upcoming 2015 Audi R8 V10 and V10 Plus.
The details were obtained by Autocar during a test drive event featuring the soon-to-be-released 2015 range of Audi R8s. The new R8 adds 39mm to its overall width while reducing its overall height by 9mm. In Plus designation, the new R8 will reportedly weight nearly 68 kg less than previous generations.
According to Autocar, the new car is up to 40 per cent stiffer and retains the same dimensions of the front and rear track.
The new car is shod in 235/35 ZR19 front & 295/30 ZR19 rear tyres with 19-inch rims as standard. Optional 20-inch rims are available with 245/30 ZR20 front and 305/30 ZR20 rear tyres.
The V10 in the 2015 R8 will be naturally aspirated and produce 532 hp at 8,000 rpm and 540 Nm of torque at 6,500 rpm. Those opting for the range-topping Plus model will receive a tuned version of the same engine that produces 601 hp and 560 Nm of torque. The standard model now has 15 hp more than the previous generation, with the Plus model receiving a bump of nearly 60 hp comparatively.
The new R8 V10 Plus will reach 96 km/h in just 3.2 seconds on the way to a top speed of 330 km/h. Overall, the new car is 0.3 seconds quicker and 13 km/h faster than the previous generation.
The new Audi R8 will premiere at the Geneva Motor Show next month.
[via Autocar]