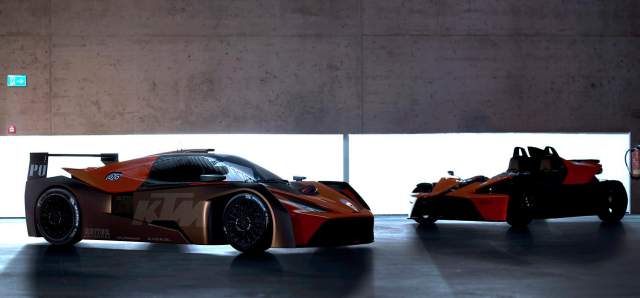 Austrian manufacturer KTM are well known for their off-road motorbikes. They do still make a single road car though, the incredible KTM X-Bow. Today KTM released the KTM X-Bow GTR. The result of a joint project with Reiter Engineering GmbH & Co KG, the X-Bow GTR is a racer.
The GTR is said to feature the most advanced racing technology. It is a fully covered coupe which gives the design a completely different look. Underneath it retains much of the same basic components though including the monocoque.
There is no word on the engine that powers the KTM X-Bow GTR. It would be reasonable to expect a slightly uprated version of the 300 hp 2.0 litre Audi unit that currently powers KTM's road cars. GT4 cars are homologated by the FIA to ensure performance levels are identical to others in the same racing category. It isn't yet clear if the KTM X-Bow GTR has been certified by the FIA.
The car will first hit the track in February and will be ready for delivery to GT4 category racing teams for Spring this year. Customers will be able to order the KTM X-Bow GTR from April at a cost of €139,000.
Reiter Engineering owner Hans Reiter says:
"First of all I have to compliment all those who have been involved at KISKA, at KTM Technologies and the KTM Sportcar GmbH who have all worked without a break, just as my own people have really done a perfect job in the shortest possible time. We are now in the end phase and if we can keep almost exactly to our self imposed, extremely tight schedule, it is looking good. In keeping with this program, the first tests are planned in mid to late February."