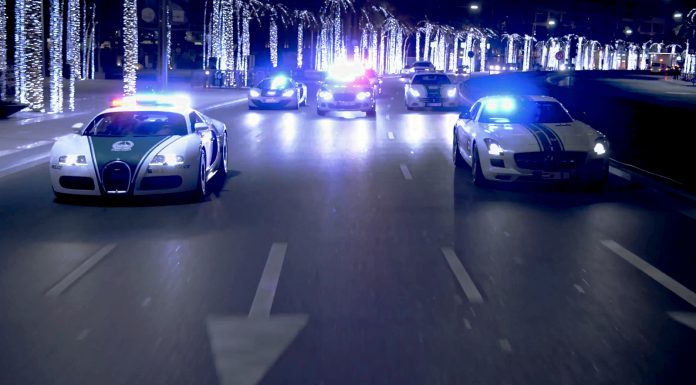 Dubai Police have released a video of their stunning fleet of supercars! The supercars have been part of the Dubai Police department for over a year so far. The cars were purchased to promote Dubai tourism and have had their fair share of the attention since.
The fleet includes an Aston Martin One-77, a Bugatti Veyron Grand Sport, a McLaren 12C and a Ferrari FF. Whilst the video doesn't feature the entire fleet (probably down to a lack of road space more than anything else!) it does show part of the fleet cruising around the Dubai highways and gathered together, garnering attention from the public.
[youtube]https://www.youtube.com/watch?v=JUlbcuy1ao0[/youtube]
The video is simply incredible with awesome production and incredible subject matter. It really is unlike anything you would see on a Police YouTube channel anywhere else in the world. The video features the McLaren 12C, the BMW M6 Gran Coupe, the Brabus G 63 and the Nissan GT-R.
The Dubai police have also added the brand Lexus RC F Coupe to the lineup as well as a Quadski. General duties and patrols are carried by Chevrolet, Toyota and Nissan vehicles with the Supercars reserved for the tourist areas of town.
The full list of cars includes a Lamborghini Aventador LP 700-4, a Ferrari FF, a Chevrolet Camaro SS, a Mercedes-Benz SLS AMG, a Bentley Continental GT, a Aston Martin One-77, a Ford Mustang GT, a BMW M6 Gran Coupé, a Brabus G63 AMG, a Bugatti Veyron Grand Sport, an Audi R8 V10, a Nissan GT-R, a Mercedes-Benz SL 63 AMG, a McLaren 12C and a Hummer H3.
If you could choose a car for your local Police, which would you choose?