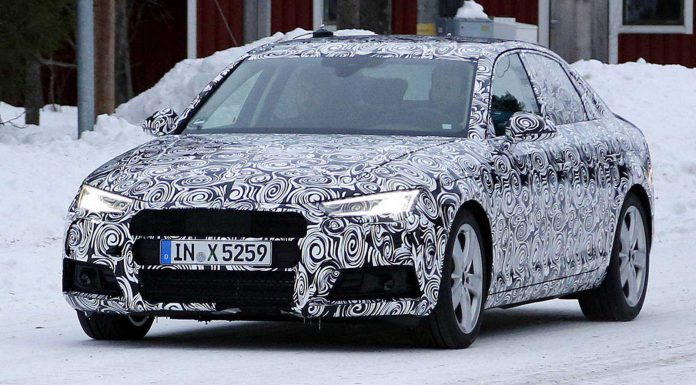 More photos of the next-generation B9 Audi A4 have surfaced online ahead of its debut later this year. It was previously believed the 2016 A4 would be shown at the upcoming Geneva Motor Show in March, however Audi representatives have now said the model will debut at a later, unspecified date.
These photos are the first showing the B9 A4's taillight and headlight designs. Out front, the sharp lighting elements are flanked by a large Audi single-frame grille, which is reminiscent of the one seen on the Audi Prologue concept and the new Q3 and Q7 SUVs. Camo covers the sides and rear of the prototype, however the new A4's styling appears to be a clean-cut evolutionary take on the current car's.
The new A4 is expected to ride on an updated version of Audi's MLB platform called MLB Evo. This revamped vehicle architecture uses a combination of high-strength steel and aluminum, along with some composite materials, to ensure it is both stronger and lighter than the platform it replaces. The model expected to weigh at least 100 kg less than the current A4, largely thanks to its new MLB underpinnings.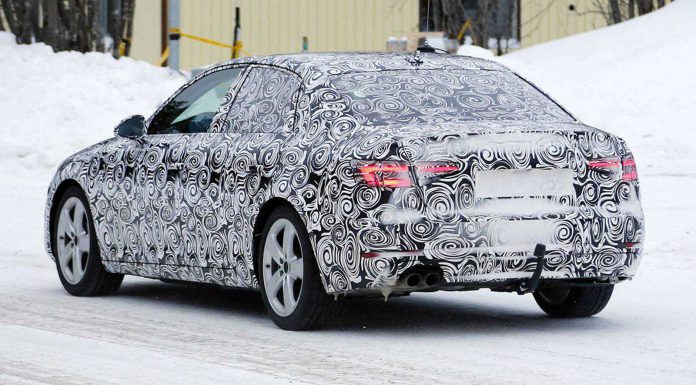 Front-wheel drive will be standard on the new A4, while all-wheel drive will be offered as an option. A range of turbocharged four-cylinder diesel and petrol engines will be on offer, while hybrids and maybe even all-electric variants could also be on the cards.
Official details on the B9 A4 will become available following its debut, which could could be scheduled for as early as this summer.