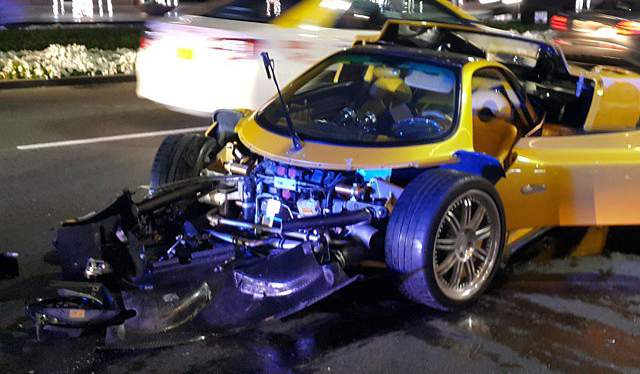 A yellow Pagani Zonda F suffered damage in an accident today in Dubai. The Italian hypercar had only recently been delivered to its new owner in Dubai. Some sources are suggesting that it was only registered to a collector as recently as yesterday. The crash appears to have left the Zonda in need of extensive repair work.
The circumstances surrounding the accident are not yet clear. The photos reveal that the car left the road at some point. There seems to have been multiple impacts to both the front and rear. It seems likely that the car was travelling pretty quickly at the time of the accident.
We haven't yet managed to find out whether the driver and passenger survived without injury. The cockpit looks in good condition which makes us hopeful.
This particular Pagani Zonda F is chassis number 76069. It was delivered from the factory straight out to Dubai with a yellow exterior and interior. It features a variety of platinum accents and a double rear spoiler, much like some of the earlier Zonda models.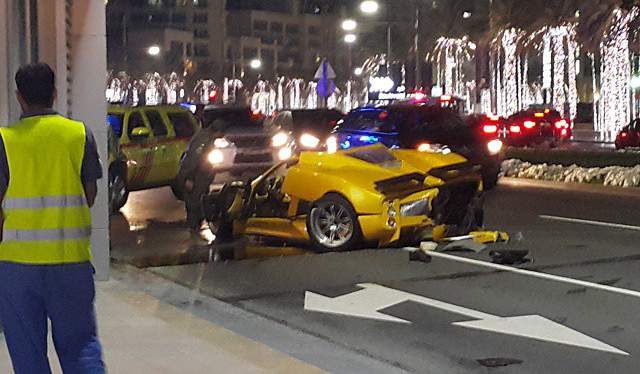 The car has been in Dubai and Oman before and has traded hands a number of times. We are told it is one of very few Pagani Zonda F's to feature a fully painted exterior. It will be interesting to see what happens to this particular car. Pagani have recently rebuilt a number of crashed Zonda's to high-specifications.