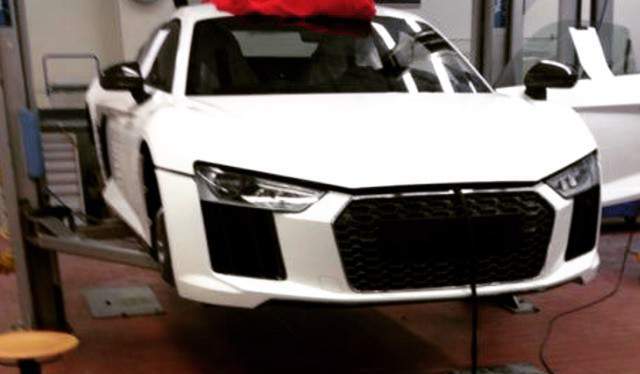 The next-generation Audi R8 has leaked ahead of its expected debut at the Geneva Motor Show 2015 next month. The 2016 Audi R8 is successor to Audi's current critically acclaimed supercar. The photo appears to have been taken in a workshop as the finishing touches are being applied to a development car.
The 2016 Audi R8 gets the new family grille, previewed on the Los Angeles Concept car last year. The shape is familiar but the R8 loses its stylistic side blades. The design lines are sharper than the outgoing car, naturally, it looks very similar to the new Audi TT.
The 2016 Audi R8 is expected to use the same 5.2 litre V10 powerplant as the brand new Lamborghini Huracan. Probably detuned to produce slightly less power so as to not outdo its Italian brother. The 2016 Audi R8 will likely get a revised version of the 4.2 litre V8 too.
Expect a more efficient 2016 Audi R8 with a more efficient power train, more power and less weight. It will share some of its architecture with the new Lamborghini Huracan, although Audi will be sure to market the R8 to an entirely different market. Aside from the front grille, much of the car is hidden, the wheels are also nowhere to be seen.
We will bring you official details as soon as they are available. We will also be on hand at the Geneva Motor Show 2014 to bring you the best live photos from the show floor!