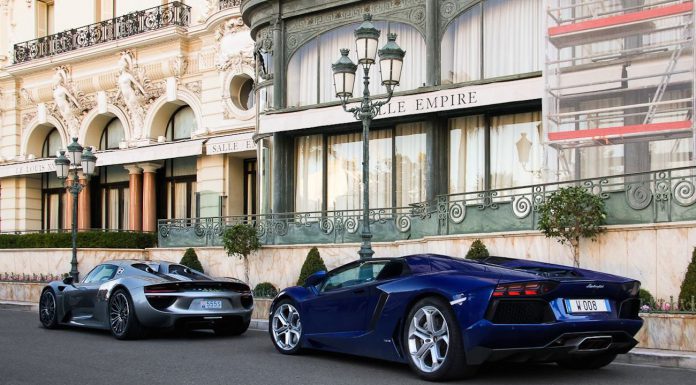 There are supercars and then there are hypercars! Todays Photo Of the Day features a Lamborghini Aventador Roadster and Porsche 918 Spyder outside the beautiful Hotel de Paris Monte-Carlo, Casino Square, where such cars can regularly be found. This great photo was snapped by Raphael Belly.
The two cars represent two very different ways of topless motoring at ridiculous speeds. Under the hood, the Porsche 918 Spyder of course uses a mid-mounted 4.6-litre V8 engine producing 608 hp independently – the highest specific power of any naturally aspirated Porsche engine. The V8 is then supplemented by a further two electric motors mounted on each axle. The electric motors can either drive the wheels independently or work together with the engine to boost performance. Each motor produces enough power to boost the total figure to an amazing 887 hp. A seven-speed Porsche Doppelkupplung (PDK) controls power delivery to the rear wheels.
The Aventador Roadster features a centrally located, 6.5 liter aspirated V12 generating 700 hp, an ISR seven-speed gearbox and push-rod suspension. It accelerates from 0 to 100 km/h in just 2.9 seconds and has a maximum speed of some 350 km/h. These figures are all similar to those of the coupe.
For more on the Porsche 918 be sure to check out our review!