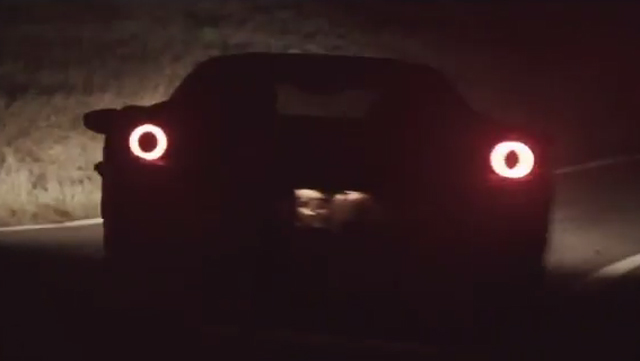 After dropping a selection of teaser images, a video previewing the long-awaited Ferrari 458M has just been revealed. While the car's name remains unofficial, the following video does give us a glimpse at some of the styling changes and most importantly, the twin-turbocharged V8 soundtrack of the latest Ferrari supercar.
[youtube]https://www.youtube.com/watch?v=Ul9fz9RzhVo#t=41[/youtube]
Compared to the current Ferrari 458 Italia which revs to an ear-piercing 9000 rpm, the video shows that the Ferrari 458M will redline at 8000 rpm which is still quite high for a turbocharged engine. While the redline may be 1000 rpm lower, the Ferrari 458M is predicted to produce around 670 hp which is over 100 hp more than the current 458 Italia and 20 hp more than the also twin-turbo V8 McLaren 650S.
Beyond the brand new engine, pinned to displace 3.9-litres, the Ferrari 458M will utilise different headlights and taillights while also adopting large air intakes at the front end. Additionally, prototypes have revealed that the diffuser will be extensively modified while a dual tailpipe system will be featured rather than the tri-exhaust of the Ferrari 458 Italia.
The covers will be taken off the Ferrari 458M in a matter of hours before its public debut at the Geneva Motor Show 2015 at the start of March.