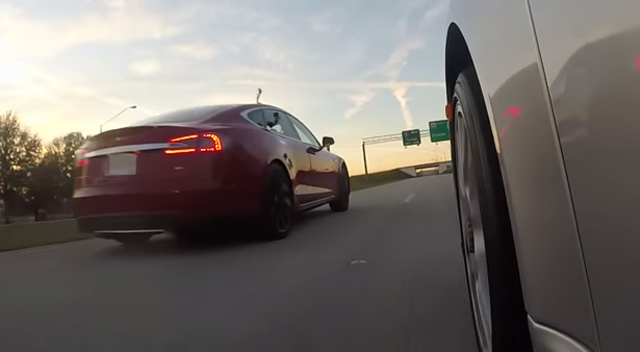 Ever since the 691 hp Tesla Model S P85D launched, we've learnt that its instant torque makes it one of the fastest accelerating cars on the planet. Having already seen videos of it beating a Lamborghini Aventador and Ferrari 458 Italia off the line, a new clip has been posted of a dark red Model S P85D showing a Porsche 911 Turbo S how it is done.
[youtube]https://www.youtube.com/watch?v=W_UVU3uvBe4#t=115[/youtube]
Tesla itself claims that the Model S P85D sprints to 100 km/h in just 3.2 seconds whereas independent tests have shown the Porsche 911 Turbo S can reach the same mark in under 3 seconds. Despite this, the following video shows the electric sedan absolutely demolishing the 911 Turbo S off the line before the Porsche catches up and passes it at the quarter mile mark.