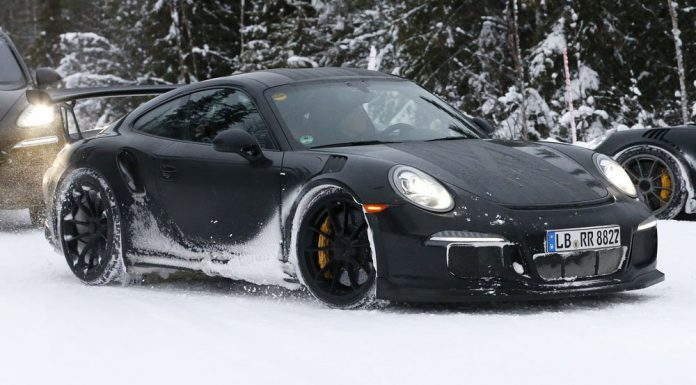 The 2016 Porsche 911 GT3 RS seems set to make its world debut at the upcoming Geneva Motor Show 2015 this time next month. The unveiling of the track-focused 911 GT3 variant will follow on from months of development and a seemingly endless number of spy shots.
While the reveal of the 991-generation Porsche 911 GT3 RS is imminent, there are many details about the new sports car which remain unclear. First and foremost, there remains some mystery about what will power the car. According to the latest reports, it will make use of an entirely new naturally-aspirated six-cylinder engine which could feature a larger displacement than the 3.8-litre units currently found across the Porsche 911 range. When it is all said and done, power is expected to sit around the 500 hp mark.
Just as some questions about what will power the 2016 Porsche 911 GT3 RS remain, gearbox options aren't set in stone either. While a PDK-transmission is expected to ship as standard on the new 911 GT3 RS, the German marque is reportedly considering offering a traditional manual 'box for those hardcore automotive enthusiasts.
Beyond the mechanical elements, we know that the 2016 Porsche 911 GT3 RS will adopt numerous visual and aerodynamic modifications to the 991 GT3. As a result, it will adopt a towering rear wing alongside new gills on the front fenders. Additionally, side air intakes almost identical to those from the existing Porsche 911 Turbo and Turbo S will be featured to provide the car's engine with additional cooling.