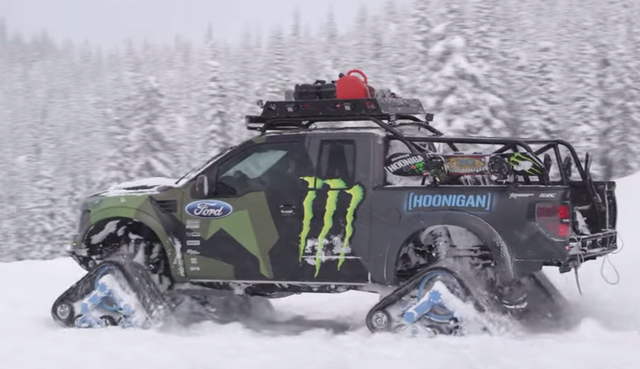 No one would argue with the fact that the outgoing Ford F-150 Raptor is an off-roading monster. Not only is it capable of tackling some of the toughest terrain without breaking a sweat but it has a presence virtually unmatched by any other car. For Ken Block however, a standard Ford F-150 Raptor simply isn't enough.
[youtube]https://www.youtube.com/watch?v=9lOaxQu5PgQ#t=202[/youtube]
Consequently, Block's team set about creating the unique RaptorTRAX which as the name suggests, uses massive tracks instead of wheels. As a result, it can virtually drive on any surface and is particularly good on snow.
Amazingly, each of the four tracks weigh about 160 kg each so to help ensure the beastly offroader is as quick as possible, the traditionally naturally-aspirated 6.2-litre V8 engine has been fitted with a Whipple supercharger and consequently now pumps out about 650 hp compared to the 411 hp of the standard car.