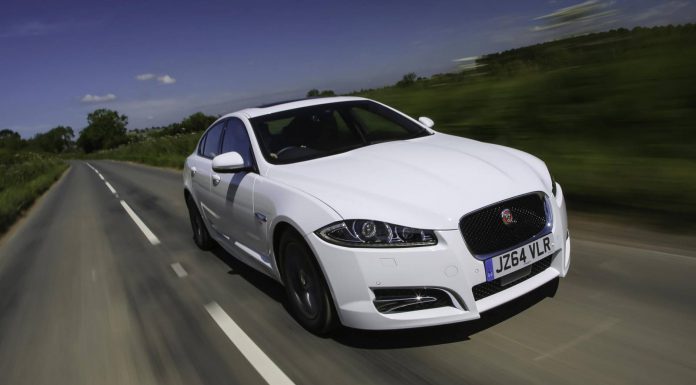 Jaguar says its revised XF range for the UK market now offers better value than ever with enhanced trim packages and a new value-added derivative, the 200 PS turbo diesel R-Sport Black. Priced at £38,350 for the saloon and £40,850 for the Sportbrake, this is just £2,100 more on the road than the standard R-Sport yet has £8,770 worth of extra equipment.
Specification enhancements on this special edition include 20 inch Black Kalimnos alloy wheels and 770W Meridian Surround Sound system. All models in the XF saloon and Sportbrake range now come with Winter Comfort Pack and Parking Pack as standard. That means all models get heated seats and windscreen plus front parking sensors and a rear camera. In addition, higher specification Portfolio, Diesel S Portfolio, XFR and XFR-S variants now all benefit from Blind Spot Monitor as standard, while most models in the range gain upgraded alloy wheels.
GTspirit review of Jaguar XFR-S

A top-seller with sales increasing every year since launch, with Sportbrake models carrying a £2,500 premium over saloons, the XF last year helped to drive Jaguar to its strongest full-year performance in nearly a decade. Jaguar Land Rover Managing Director Jeremy Hicks said: "The XF combines style, luxury, comfort and the kind of sporty drive that only Jaguars deliver. That's why it has always been popular with customers – and, thanks to the addition of R-Sport Black and our 2015 range enhancements, it now offers even better value for money."
To streamline the range, the SE, SE Business and Premium Luxury trim levels have been discontinued, as have the 3.0-litre V6 petrol and 240 PS 3.0-litre TDV6 diesel engines. As a result, the range now starts with the generously specified Luxury trim with Gloss Dark Oak veneer, priced from £33,445, up £500, for the 163 PS 2.2 petrol saloon.
The Luxury 200 PS models, up £600 to £34,550, also get upgraded from 17 inch Ursa alloys to new 18 inch Manra wheels – cars with the 163 PS engine retain the smaller wheels to keep their CO2 emissions to 129g/km. The extra equipment represents £1,870 added value.
GTspirit review of Jaguar XFR-S

All R-Sport models now have £2,460 added value, with Winter Comfort Pack, Parking Pack and the 380W Meridian Audio system as standard and Gloss Dark Oak veneer. The 200 PS models, priced up £800 to £36,250, get 19 inch Grey Aquila wheels instead of the 18 inch Lyra alloys. The 163PS cars are up £700 to £34,695.
Available exclusively with the 2.2-litre turbocharged 200PS diesel engine, the new R-Sport Black's standard specification also includes Black Pack, full bond-grain leather upholstery and 18-way sports seats with memory function. It comes with a choice of five no-cost paint colours: Kyanite Blue, Italian Racing Red, Glacier White, Ultimate Black and Stratus Grey – with the Kyanite Blue option limited to just 100 units.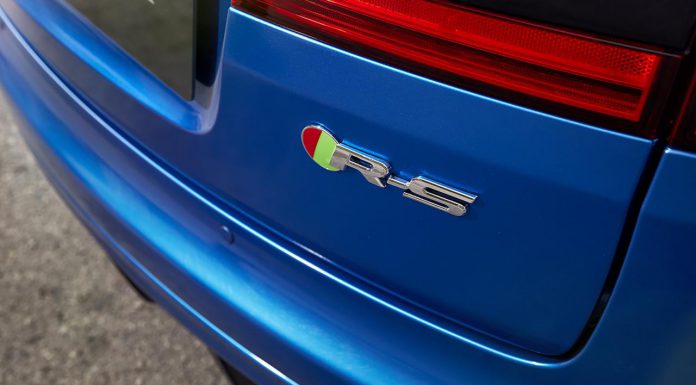 Not all prices are rising – the cost for luxurious Portfolio spec cars has been cut by £3,500 despite the addition of the Parking Pack, Blind Spot Monitor and 19 inch Artura wheels as standard while 20 inch Hydra and Silver Draco alloys have been added to the options. Suedecloth headliner and metallic paint are no longer standard, while Portfolio models now come with the 380W Meridian system.
And the prices, from £49,515, are unchanged for Diesel S Portfolio models despite retaining Suedecloth headliner, metallic paint and the 770W Meridian Surround Sound system and adding the full Parking Aid Pack and Blind Spot Monitor as standard.
Pricing is pegged too for the ferocious 510 PS 5.0 litre V8 XFR despite a host of new spec worth £3,760 including stainless steel pedals, Speed Pack, Rear View Camera, Blind Spot Monitor and red brake callipers, and for the range-topping 550 PS XFR-S which now comes as standard with Rear View Camera and Blind Spot Monitor worth £860.