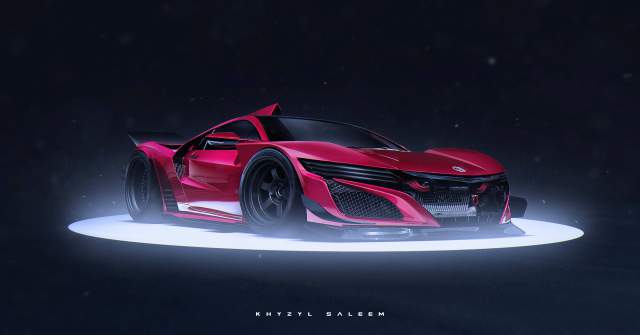 If reports are to be believed, a racing variant of the recently revealed 2016 Honda NSX is being developed to compete in the GTE racing class at the 24 Hours of Le Mans. While it remains to be seen if such a racer will debut this year or in 2016, automotive artist Khyzyl Saleem has decided to render how such a race-spec 2016 Honda NSX could look.
From a design standpoint, Saleem took inspiration from the first-generation Honda NSX-R GT race car which featured a bold, triangular roof scoop. As such, Saleem's creation also features a triangular roof scoop and when combined with pronounces canards, flared wheel arches and beefed up wheels, this is definitely as bold and aggressive as the new NSX could get. Unfortunately however, the real Honda NSX GTE racer is unlikely to look so unmistakably menacing.
As a reminder, the 2016 Honda NSX is powered by a twin-turbocharged double overhead cam V6 engine mated to a nine-speed dual-clutch transmission and joined with no less than three electric motors. One of those electric motors powers the rear wheels while the other two send power to the front wheels to make the 2016 Honda NSX all-wheel drive. Performance specifications have yet to be revealed nor have horsepower and torque ratings.
Another key utilisation of the new Honda NSX is its Sport Hybrid Super-Handling All Wheel Drive system which includes four different driving modes of Quiet, Sport, Sport+ and Track. When the Japanese supercar is switched between these modes, the engine, electric motors, transmission and chassis will all respond in different ways with Quiet mode seeing the car powered purely by electric power and the other three seeing the electric motors working in conjunction with the V6 engine.
[Via Khyzyl Saleem]