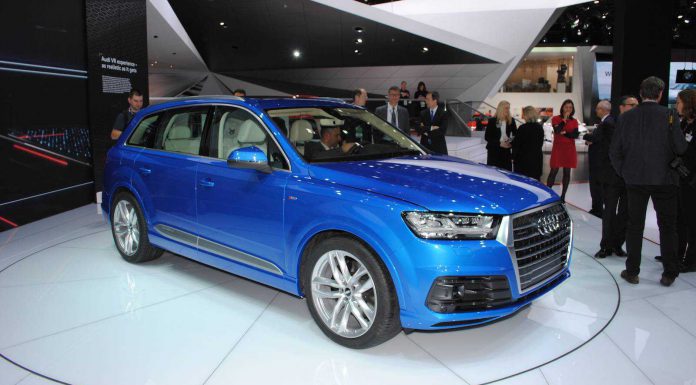 The 2015 Audi Q7 is currently being debuted at the Detroit Motor Show 2015 for the very first time. The new Q7 represents a dramatic revolution over the previous-generation model and consequently features a plethora of new technologies as well as a thoroughly revised design. We headed over to Audi to check it out.
The biggest headline for the new Audi Q7 is the substantial diet it seems to have been subjected to. It's shed 325 kilograms (716.5 lb) over the previous generation. It features a new multi-material body and an all-new chassis which has helped keep weight down – 71 kilograms is lost from the body as the Q7 is shorter and narrower than its predecessor. The 3.0 litre diesel version weighs just 1,995 kg.
In terms of design, the exterior dimensions have got smaller, yet the interior room for passengers and luggage is significantly improved. The Audi Q7 gets modern Audi design with a new single frame grille, a defined horizontal design line and a muscular look. The headlights feature either xenon, LED or Matrix LED technology. The daytime running lights of the LED headlights are shaped like a double arrow. The tail lights of the top model include dynamic turn signals.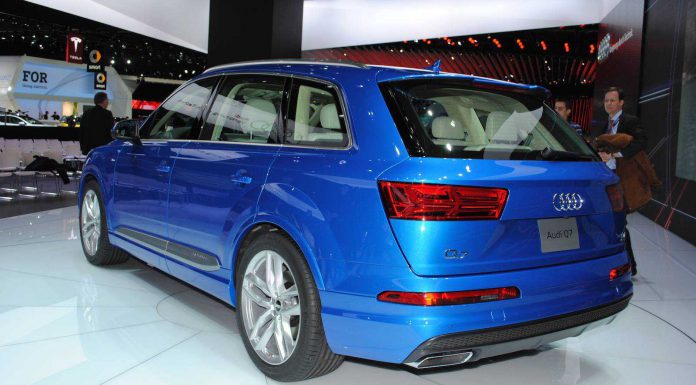 The new Audi Q7 is offered with a variety of engines, including a 272 hp 3.0 TDI which is capable of a 0-100 km/h sprint of 6.3 seconds. A 3.0 litre TFSI is also available with 333 hp and a 0-100 km/h time of 6.1 seconds. Another engine option is the 2.0 TFSI with 252 hp and 370 Nm of torque.
For more from the Detroit Motor Show 2015, check out our dedicated news channel. For more about the 2015 Audi Q7, check out our previous article.