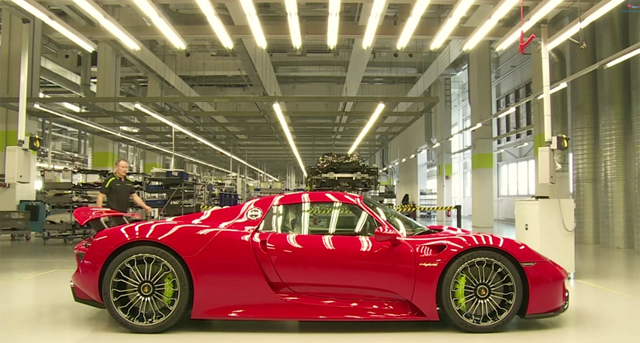 Creating a car like the Porsche 918 Spyder is no different to creating a fine piece of artwork for display in the world's most exclusive gallery. Each and every part used for the 918 Spyder is meticulously installed by the German manufacturer to create one of the world's fastest production cars in a straight line and around a track.
[youtube]https://www.youtube.com/watch?v=uewVCho0ZlI#t=517[/youtube]
The following video provides an unadulterated look into the assembly line for the Porsche 918 Spyder and the craftsmanship and care taken by each engineer has to be seen to be believed!
As a reminder, the 918 Spyder uses a mid-mounted 4.6-litre V8 engine producing 608 hp independently – the highest specific power of any naturally aspirated Porsche engine. The V8 is then supplemented by a further two electric motors mounted on each axle. The electric motors can either drive the wheels independently or work together with the engine to boost performance. Each motor produces enough power to boost the total figure to an amazing 887 hp. A seven-speed Porsche Doppelkupplung (PDK) controls power delivery to the rear wheels.