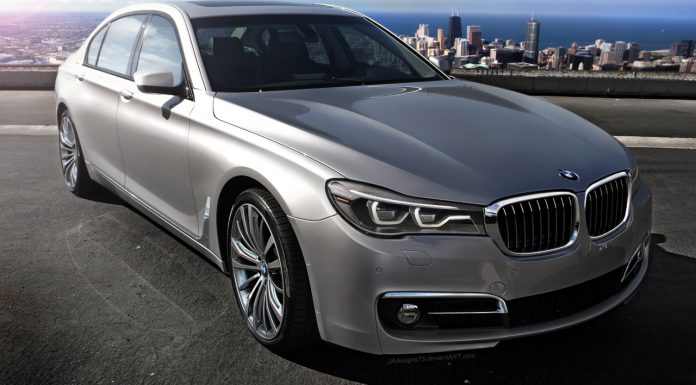 New details about the next-generation BMW 7-Series have emerged with suggestions that the German luxury sedan will be available with a dedicated infotainment system for the front passenger.
Details about this system remain limited but it is suggested the front passenger will have access to a selection of apps and functions from the central infotainment system without distracting the driver. That new infotainment system is said to be touch-sensitive and will reportedly act in a similar fashion to a modern-day tablet or smartphone.
Beyond this piece of tech, the next-generation BMW 7-Series will feature a selection of visual modifications include a thoroughly revised front fascia. That new fascia will incorporate redesigned headlights, new fog lights, a selection of chrome accents for the air intakes and kidney grille as well as a new bumper. Further changes compared to the existing 7-Series will include the installation of a more aggressive bonnet with a prominent crease running down the side of the German luxury sedan also featuring.
Beyond the styling changes, we know that the 2016 BMW 7-Series will adopt a new chassis combining both aluminium and carbon fibre and could weigh 204 kg less than the outgoing platform. Additionally, recent rumours have suggested that the next-generation BMW 7-Series will adopt the German marque's new range of inline six-cylinder engines as part of BMWs new modular engine architecture.
This new engine architecture includes three, four and six-cylinder powertrains both coming in petrol and diesel derivatives. These new engines are promising to not only be more refined than the current BMW engines on the market but will provide even more impressive performance capabilities.
[Rendering via BMW Blog]