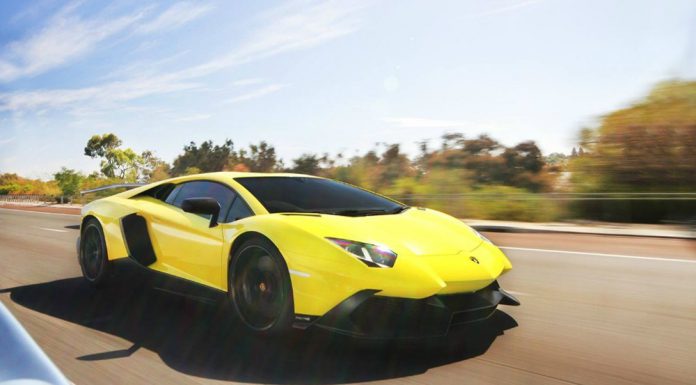 The very first Lamborghini Aventador LP720-4 50th Anniversario delivered, currently residing in Australia, has been listed up for sale for a cool $1.1 million AUD which is the equivalent of $900,000 in the United States.
While this Aventador LP720-4 50th Anniversario is number 13 of 100 coupes created, we believe it was the very first example delivered when the customer received the keys back in October last year. It is finished in a shade dubbed Giallo Maggio and the car has travelled a mere 1500 km since being delivered over 12 months ago.
To add an extra sense of aggressive to the car and to make it look like how the future Aventador SV could look, the car has also been installed with a towering aftermarket rear wing.
The car was created by Lamborghini to celebrate its 50th anniversary last year. The Aventador LP720-4 50th Anniversary features the same 6.5-litre V12 as the standard LP700 but it has been tweaked by the Lamborghini engineers who have managed to extract an astronomical 720 hp from it. Zero to 100 km/h is over in the same 2.9 seconds as the LP700 and the Aventador LP720-4 will carry on howling and pulling to a vision blurring 350km/h.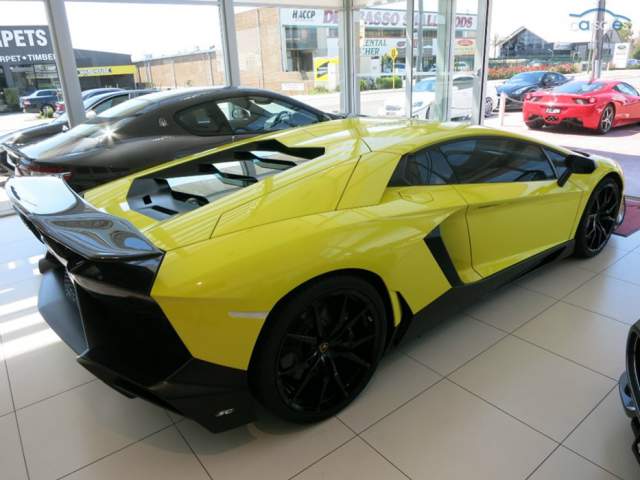 Alongside the exclusive Giallo Maggio paint finish, the car features a brand new aero kit and consequently receives enlarged air intakes and splitters, an enlarged rear diffuser and extensive meshwork helping the engine to breath. These changes have all been finished in matte black adding to the menacing look of the car. Lamborghini claim that all of the tweaks have increased aerodynamic efficiency by 50 per cent when compared to the LP700.
[Via Car Sales]