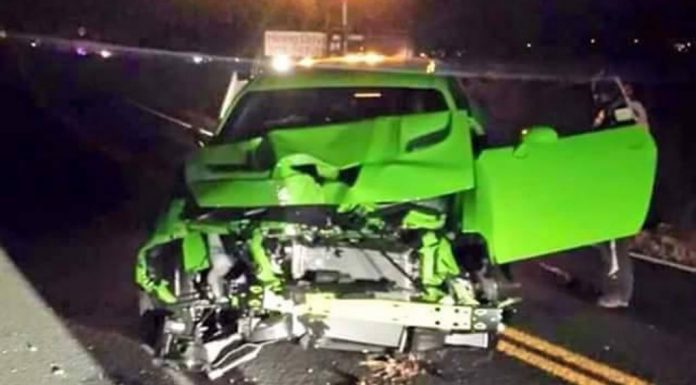 A bright green 2015 Dodge Challenger SRT Hellcat has been absolutely destroyed just one hour after the owner took delivery of the world's most powerful production muscle car.
The crash happened in Colorado and while details remain somewhat scarce, it is believed that the car skidded off the road and crashed head-on into a tree. The damage to the front is extensive meaning the car is likely to be deemed a complete write-off.
With so much power on tap, it was inevitable that the first crashes involving the Challenger SRT Hellcat would begin to emerge even though customer deliveries started only one month ago.
Under the hood, the 6.2-litre supercharged V8 engine of the Challenger SRT Hellcat pumps out a truly spectacular 707 hp and 650 lb-ft of torque! To help limit power of the new SRT Hellcat in not-ideal situations, it comes standard with a black key fob which limits power to 500 hp while the red key fob unlocks the full potential of 707 screaming horsepower! This power comes courtesy of a 6.2-litre HEMI V8 supercharged engine which we now know is the most powerful engine the Chrysler Group has ever produced.