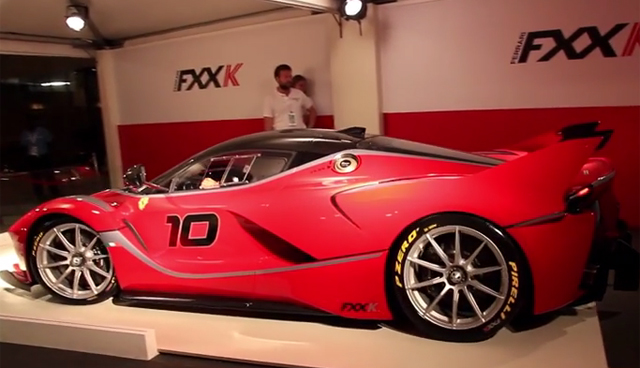 The very first video of the LaFerrari FXX K has hit YouTube. It shows the FXX K starting up and as you would expect, the latest track-oriented car from Ferrari sounds like an absolute beast especially indoors!
The LaFerrari FXX K continues where the Ferrari FXX Evoluzione left off. Whereas the Ferrari FXX was based upon the previous Ferrari halo-model, the Ferrari Enzo, the LaFerrari FXX K is based upon the current model! As a high performance race car and prototype, the LaFerrari FXX K is only useable at special Ferrari-approved track days.
[youtube]https://www.youtube.com/watch?v=DurfaAOs-lI#t=68[/youtube]
Beneath the skin, the LaFerrari FXX K features a tuned version of the LaFerrari's 6.3-litre V12 engine and electric motor powertrain. Rather than the 950 hp delivered by the road car, the LaFerrari FXX K produces a potent 1021 hp and over 664 lb-ft of torque. Of that power, 835 hp comes from the naturally-aspirated V12 while the remaining 188 hp comes from the upgraded electric motor. Mated to this potent powertrain is a seven-speed paddle-shift dual clutch transmission.
To achieve the extra power, the V12 has been installed with new camshafts, revised intake manifolds, a redesigned valve train as well as mechanical tappets. Elsewhere, the exhaust system has been changed while the HY-KERS system now provides four different driving modes. These are Qualify Mode, Long Run, Manual Boost and Fast Charge.