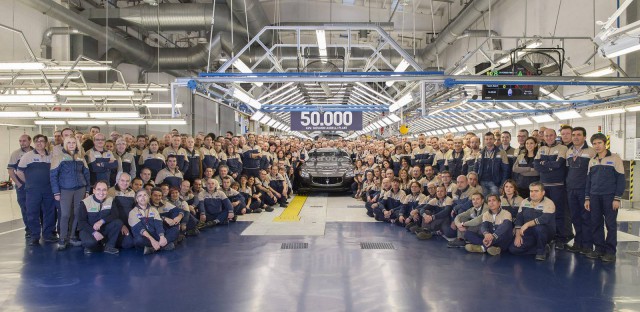 On the final day of Maserati's Centennial celebrations, the Italian firm's Giovanni Agnelli Plant has produced its 50,000th car.
This impressive figure was reached less than two years after operations at the Giovanni Agnelli Plant kicked off thanks to high demand for the Quattroporte and Ghibli models which the factory is responsible for producing.
Car number 50,000 is a Maserati Quattroporte S Q4 finished in a shade dubbed Grigio Maratea. In the cabin it is adorned with red and black leather upholstery and is heading to the U.S. market.
Back in May, Maserati recorded its highest selling month ever after selling over 1100 cars. By the time the Maserati Levante SUV reaches the market, the firm hopes to be producing 75,000 cars annually.