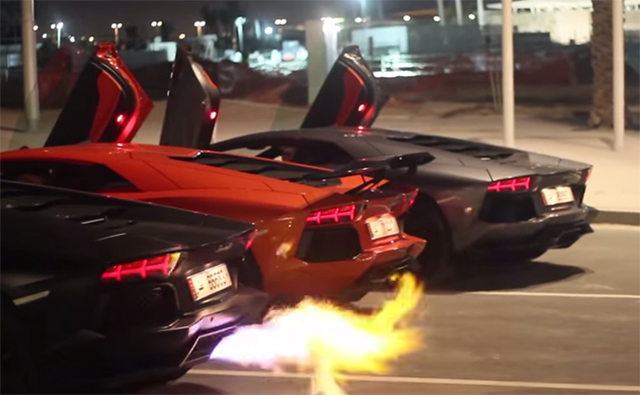 What's better than one Lamborghini Aventador revving and spitting flames? Two Aventadors of course but in this case, three is the magic number! The following video was filmed in Qatar and shows three Aventadors breathing fire alongside each other at night making for not only an incredible soundtrack but also a sight that has to be seen to be believed.
[youtube]https://www.youtube.com/watch?v=KG5D9GIzKs8[/youtube]
Powering the Lamborghini Aventador is of course an all-motor 6.0-litre V12 engine delivering a total of 690 hp at 8250 rpm and 510 lb-ft of torque at 5500 rpm. When combined with a power to weight ratio of 426 hp per tonne, a seven-speed ISR transmission and all-wheel drive, the Aventador can reach 100 km/h from a standstill in less than three seconds!