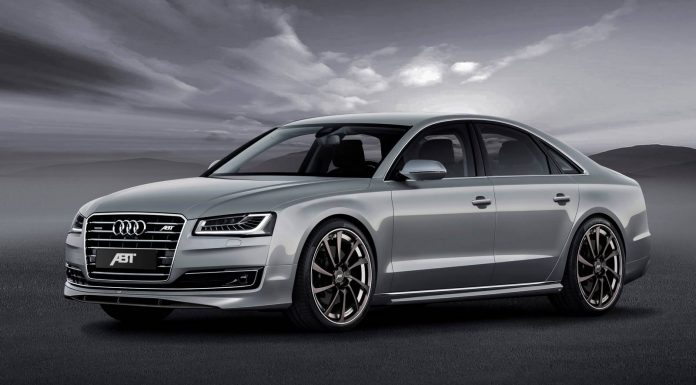 ABT have unveiled the new Audi A8 Facelift package! The Audi A8 is currently enjoying its third generation. ABT's Audi A8 packages have always been popular as Audi don't provide an RS package, something that the ABT performance packages take care of!
The ABT aero package includes a curved front spoiler, new side skirts and a rear skirt set. ANT also fit a set of quad tail pipes, the inner outlets are smaller and of a slightly different geometry.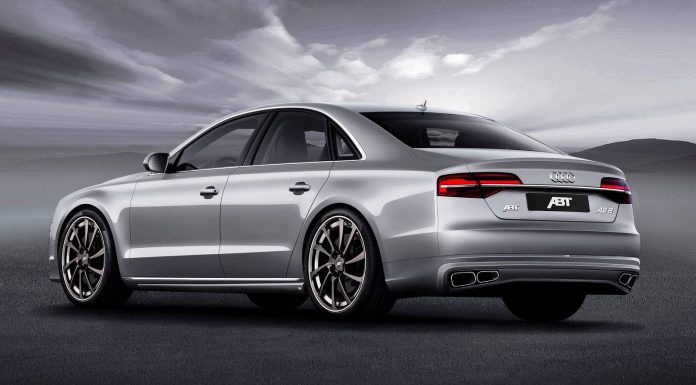 The ABT separate control unit, can be applied to the petrol Audi A8's including the 4.0 TFSI. The ECU module turns the standard 435 hp and 600 Nm into 540 hp and 720 Nm of torque. Diesel owners can apply the same package to the 3.0 TDI boosting it to 300 hp and 640 Nm of torque instead of 258 hp and 580 Nm of torque. The 4.2 litre V8 TDI goes from 385 hp and 850 Nm of torque to 430 hp and 920 Nm of torque.
Handling is taken care of by the ABT Level Control which lowers the car by 25 mm, front and rear. ABT Sportsline's alloy wheels are ABT DR in "Gun-Metal" with a machine-relieved well. The wheel is available in 20'' and 21'' and in "mystic black" finish. Another interesting variant is the ER-C, available in 19'' and 20'' and with "silver bullet" and "Gun-Metal" finishes.