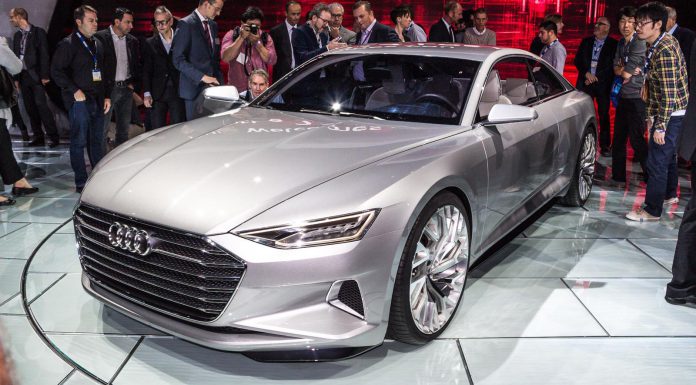 Audi has decided to use the Los Angeles Auto Show 2014 to launch its new styling language with the unveiling of the Audi Prologue Concept. The car was designed by Audi's new head of design, Marc Lichte, and is extremely eye-catching so we had to check it out!
The first thing you'll notice about the front end of the Audi Prologue Concept is the redesigned singleframe grille. It incorporates Audi's four-ringed logo and compared to existing Audi models, is significantly wider and positioned lower than usual. Up close, the new singleframe grille uses a fine diamond pattern to add an extra sense of class.
Another key design element Lichte focused on was the headlights. They feature exceptional sharp lines and like the front grille, are wider and slimmer than other Audi headlights. Additionally, the new headlights feature Audi's Matrix laser technology.
The sides are characterised with exceptionally clean lines as well as the large 22-inch wheels set in flared wheel arches. The wing mirrors are then made from aluminium and to ensure a clean design, no door handles are featured on the Prologue. Instead, the doors are opened electromechanically when the illuminated sensor surfaces are touched.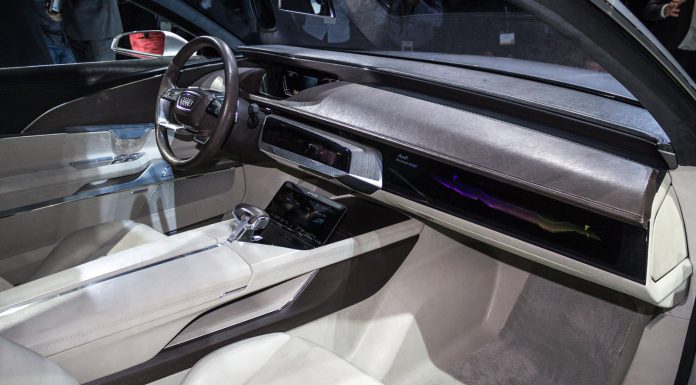 At the rear, the Audi Prologue utilises newly designed LED taillights which are joined by a central red bar stretching across the rear fascia. Additionally, the wide C-pillars are featured alongside a uniquely designed inward curved rear window.

For more about the Audi Prologue Concept, see our previous post. For more from the Los Angeles Auto Show 2014, check out our dedicated news channel!