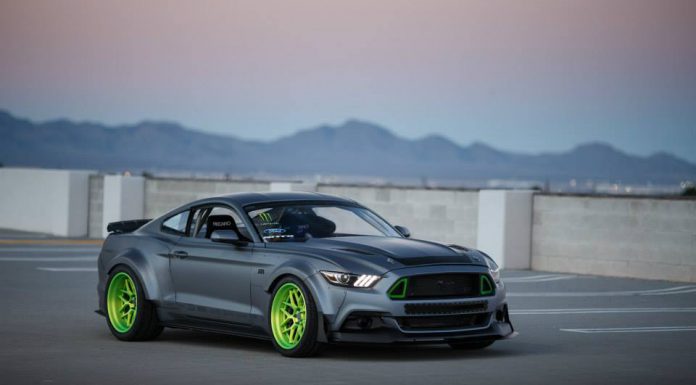 At SEMA 2014, Vaughn Gitten Jr's new drifting machine, the 2015 Mustang RTR Spec 5 Concept was introduced. Alongside it was the road-going Mustang RTR and as the following video shows, the two powerful American muscle cars put on a spectacular show at the Ford drifting arena!
[youtube]https://www.youtube.com/watch?v=3cjg2AOpcJU[/youtube]
Visually, the 2015 Ford Mustang RTR Spec 5 Concept features aggressively flared wheel arches significantly wider than those from the publically available 2015 Mustang RTR. Additionally, it is rolling on a set of bright green wheels to match the inevitable Monster Energy livery which will adorn the car when it begins competition.
Elsewhere, the Mustang RTR Spec 5 Concept features a roll cage, Recaro racing seats, an extended front splitter as well as a prominent rear bootlid lip spoiler. It remains to be seen just what is powering the Spec 5 Concept but we know a 725 hp variant is available for the street so it is certainly possible the Spec 5 Concept's engine is very closely related to that one.