Legendary modern muscle car experts ROUSH have a ROUSH Mustang Stage 3 TrakPak on display at SEMA 2014. Based on the brand new Ford Mustang platform, the TrakPak received a SEMA 2014 Special Recognition Award for Outstanding Achievement in Design.
Details for this car are rather thin on the ground at the moment. Both Stage 1 and Stage 2 cars have already been released, however, details of this, the most extreme version, haven't yet leaked onto the internet. We can speculate though…
Obviously, "TrakPak", plus the addition of a monster rear wing mean that this car is optimised for the race track moreso than the road. We like to think that it features the Mustang's atmospheric 5.0 litre V8. The outgoing Stage 3 conversion featured 675 hp so we have our fingers crossed that the new Stage 3 cracks the 700 hp bracket.
In terms of aerodynamics, the ROUSH Mustang Stage 3 TrakPak has a massive front skirt with a new front grille and larger hood. The spoiler dominates the rear end together with a quad exhaust setup. Proper American muscle!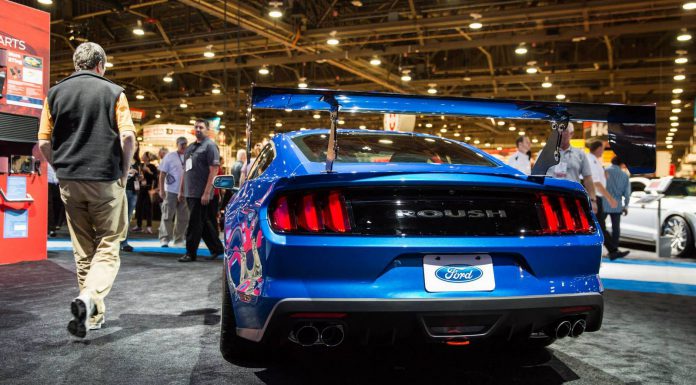 We'll let you know as and when we hear more information about the ROUSH Mustang Stage 3 TrakPak!