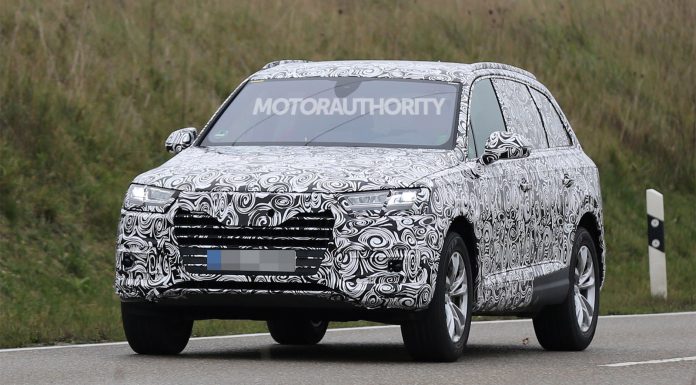 Ahead of its expect arrival at the Detroit Motor Show 2015 in early January, a new prototype for the next-generation Audi Q7 has been snapped testing. Even though this particular prototype is completely bathed in black and white camouflage to trick the eye, the camo is actually skin-tight meaning we can get a feel for the overall shape of the luxurious German off-roader.
From a styling standpoint, the headlights and taillights feature a similar rectangle shape to other recent Audi models including the TT with very pointed and aggressive edges. Inevitably, the 2016 Audi Q7 will also feature the automaker's now customary single-frame front grille as well as brand new bumpers at both ends.
Underpinning the next-generation Audi Q7 will be the Volkswagen Group's brand new MLB architecture. As a matter of fact, the Q7 will be the first car to use this platform and in the future, it will be used by the likes of the future Porsche Cayenne, Bentley SUV, Lamborghini SUV and the next-generation Volkswagen Touareg. Thanks to this extensive change, the 2015 Audi Q7 is expected to weigh at least 300 kg (660 pounds) less than the current car.
While the implementation of the new structure is very exciting, arguably the most exciting thing about the new Audi Q7 is that it will be offered as a plug-in hybrid for the very first time. Additionally, the range will be topped by the Audi SQ7 which is set to utilise an electrically turbocharged engine similar to the recently revealed Audi RS5 TDI Concept.
Elsewhere in the range, there's likely to be a twin-turbo V8 engine with upwards of 430 hp, a 3.0-liter TFSI V6 producing 310 hp and a selection of different diesel engines. These could include a 3.0-liter TDI V6 delivering 258 hp and a 4.2-liter V8 TDI with 385 hp. Additionally, a 2.0-litre four-cylinder turbo diesel with 240 hp is possible.
[Via Motor Authority]