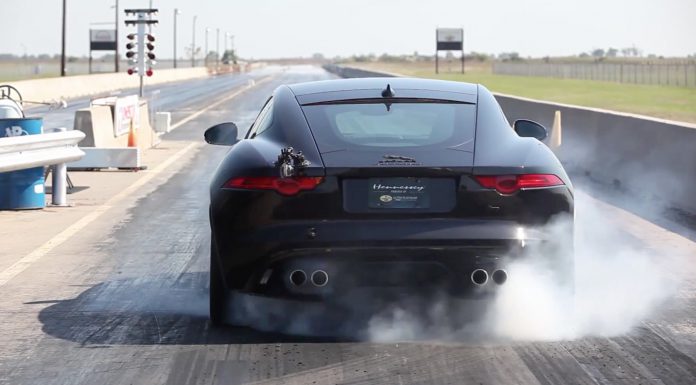 Texas tuner Hennessey Performance unleashed a video of their Jaguar F-Type R Coupe today. The American performance specialists have fettled Jaguar's muscle car to produce a more extreme version. The result is clear from the video uploaded today!
Hennessey Engineers have added custom software, a supercharger pulley upgrade, intercooler cooling upgrades as well as the usual dyno tuning, serial plates and Hennessey badging. Hennessey also include a 3 year, 36,000 mile limited warranty on all modifications.
[youtube]https://www.youtube.com/watch?v=4v3pq1jnLtY#t=78[/youtube]
The cumulative total of the upgrades applied to the 5.0 litre V8 mean that the Hennessey Performance Jaguar F-Type R Coupe now produces 623 bhp at 6,200 rpm and 568 lb-ft Torque at 4,300 rpm. It is capable of a 0 to 60 mph sprint of just 3.5 seconds and a 1/4 mile of 11.4 seconds with a terminal speed of 126 mph.
The upgrade package is named the Hennessey Performance F-Type R Coupe HPE600 and is available across the Jaguar and Land Rover range for all of the latest 5.0 litre engines judging by Hennessey's latest press release. Enjoy the insane sound produced by the F-Type R Coupe on the dyno and on the drag strip!