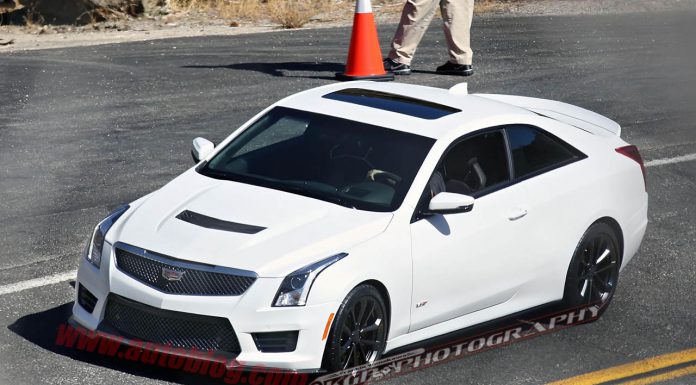 Spyshots have just emerged of a Cadillac ATS-V prototype spied completely undisguised during a recent official photoshoot. The car is pinned to debut at the Los Angeles Auto Show 2014 next month.
From a styling perspective, the Cadillac ATS-V is significantly more aggressive and bold than typical ATS models. What this means is that it features a revised front grille and bumper as well as a carbon fibre front splitter. Elsewhere, a new bonnet with a subtle power dome has been added alongside air extractors. From the side, the car is adorned with new sports wheels and beefed up brakes which appear to be carbon ceramic units. At the rear, a prominent bootlid lip spoiler is present alongside quad tailpipes.
In the cabin, a set of sports bucket seats have been fitted to ensure the car is as capable as possible on the racetrack by keeping occupants tucked in tightly.
Designed to rival the BMW M3, the 2015 Cadillac ATS-V will feature a twin-turbocharged V6 engine displacing 3.6-liters from Cadillac and delivering a total of 425 hp. Mated to this engine is expected to be a seven-speed manual transmission available as an option. Alternatively, an eight-speed automatic transmission is expected. Further down the road, a brand new dual-clutch transmission could arrive early next year.
[Via Autoblog]