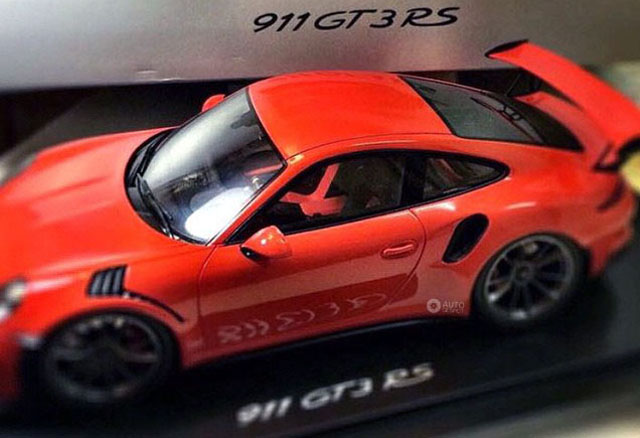 Back in mid-June, an image of the 991-generation Porsche 911 GT3 RS leaked online in scale model form. The rather revealing photo provided us with an excellent look at its new design. Now another image of a 911 GT3 RS scale model has emerged alongside what are likely official details about the car.
As for the scale model picture, it shows some key design and aerodynamic differences between all other GT3 RS iterations. For example, the car features aggressive air extractors above the front wheels as well as similar side air intakes currently only available for the Porsche 911 Turbo and Turbo S models. Additionally, this car is finished in a new shade dubbed Java Orange.
2014 Porsche 911 GT3

Despite the presence of the aforementioned side air intakes, the new Porsche 911 GT3 RS will remain naturally aspirated in a nod to tradition and despite recent rumours suggesting all 911 variants will be turbocharged in the future. The tweaked engine is likely to push power up towards the 500 hp mark.
Unfortunately, a manual transmission will not be made available with the same dual-clutch transmission of the 'standard' GT3 likely to be maintained. Another new feature will be a pit-lane function which at the press of a button, will limit the car's speed in a pit-line during racetrack visits.
According to recent reports, the 2015 Porsche 911 GT3 RS lapped the Nurburgring Nordschleife in a mere 7 minutes and 20 seconds.
[Via Autogespot]