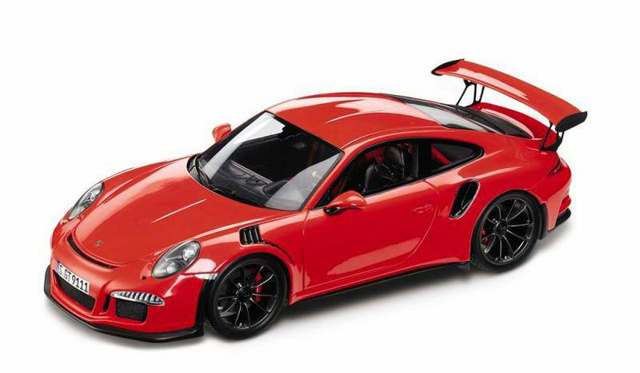 A reported scale model of the upcoming Porsche 991-generation 911 GT3 RS has leaked online. Interestingly, if this model is showing the real thing, it wouldn't be the first time a production car has been leaked via a small model. As a matter of fact, an image of a model SRT Viper from Hot Wheels previewed the design of the America muscle car.
As for this particular model, it displays all the characteristic traits of a 911 GT3 RS including the massive rear wing, upgraded front end, splitter and rear bumper. As for new features, you'll find air vents just above the front wheels with the most dramatic change being the addition of the trademarked, turbocharger air intakes just in front of the rear wheels.
These intakes are only featured on turbocharged 911 models and play into recent rumours that the new 911 GT3 RS will adopt a turbocharged engine. It is speculated that Porsche is concerned about the current 3.8-litre six-cylinder engine's capacity to cope with a boost in power and is said to be considering turbocharging.
This would make engine power improvements relatively easy while ensuring the reliability of the current 3.8-litre flat six-cylinder engine. Along with the boost in power and performance, turbocharging the next GT3 RS would make sense because it would help reduce emissions and improve fuel efficiency for the rev happy engine.
Such reports would fit in line with what we have seen from recent 911 GT3 RS prototypes. All of them thus far have featured side air intakes just like those utilised on the current 911 Turbo and Turbo S models.
When it is all said and done, the new 911 GT3 RS will comfortably deliver over 500 hp. When combined with different gear ratios and sticky tyres, it will hit 100 km/h from naught in around 3.5 seconds. While this remains to be confirmed, there is some suggestion it could be available with a manual transmission.
[Via The Supercar Kids]