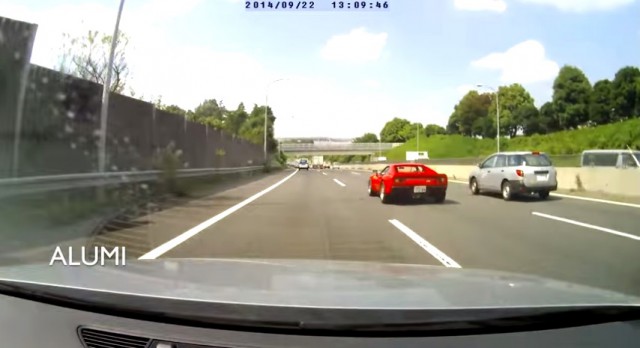 A video recently came to our attention, shot on a Japanese highway via dashcam, which appears to show an unfortunate incident involving a Ferrari 288 GTO. The Ferrari enters the scene in a blaze of glory. The exhausts are shooting flames, it is a sight to behold. Minutes later however, the car loses what appears to be central lug nut causing the driver to pull across to the hard shoulder for some urgent repairs.
We suspect that the car was on a shakedown run having just left a workshop. Hopefully we never see another incident like this again, although it didn't look as though it caused too much damage to the historic supercar.
[youtube]http://www.youtube.com/watch?v=FwkWMM2U0hE[/youtube]
The Ferrari 288 GTO is a homologation special based on the Ferrari 308 GTB. It bears the same name as the legendary Ferrari 250 GTO, although its competition history is not quite as prestigious. It was built to compete in the Group B Race series, however, before the car could even turn a wheel on the race track, the FIA disestablished the class.
The Ferrari 288 GTO features a 2.8 litre engine, debored from the 3.0 litre unit found in the 308 GTB. Only 272 examples were produced and it remains one of the most sought-after collectors Ferrari's.