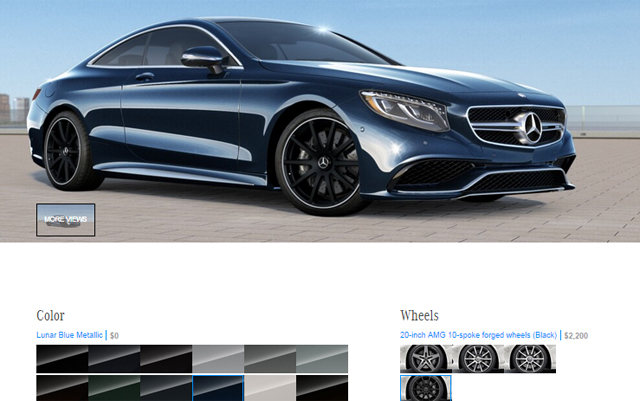 The online configurator tool for the brand new Mercedes-Benz S-Class Coupe has just been launched in America. Currently limited to U.S. bound S-Class variants, meaning the S550 4Matic Coupe and the S63 AMG 4Matic Coupe, the configurator does give us regular folk an insight into what it takes the spec a customer's perfect Mercedes-Benz.
As a reminder, the new S63 AMG Coupe unveiled earlier this year, replaces the Mercedes-Benz CL63 AMG Coupe. It is powered by a potent 5.5-liter twin-turbocharged V8 engine delivering 577 hp at 5,500 rpm as well as a brutal 664 lb-ft of torque at a low 2,240 rpm. To put this into comparison, this is a 40 hp increase over the CL63 AMG. The massive engine is then mated to a seven-speed Speedshift automatic transmission.
While this engine and transmission can either drive the rear-wheel or all four-wheels in Europe, only the 4Matic all-wheel drive system is available in the U.S.