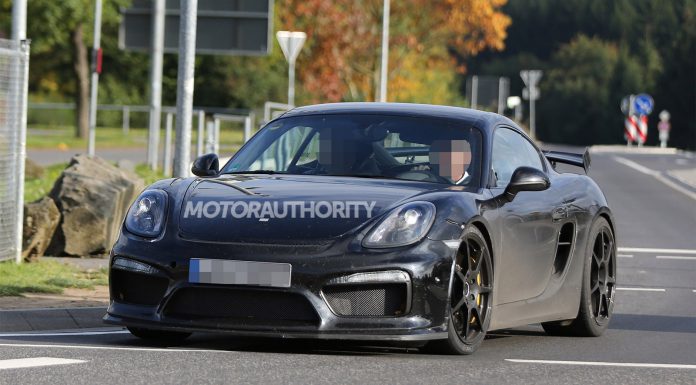 A new prototype for what is shaping up to the be the most potent Porsche Cayman derivative has been spied testing near the Nurburgring. Purportedly dubbed the Cayman GT4, the car will be distinguished on a selection of levels from all other Cayman variants.
Beneath the skin, reports claim that the Porsche Cayman GT4 will use the company's 3.8-litre twin-turbocharged boxer six engine. It will reportedly be tuned into the region of 450 hp and will therefore comfortably sit above the current range-topping Cayman GTS.
Beyond featuring a more powerful engine, the Cayman GT4 will make use of a stripped-down interior to help save on weight.
From a visual standpoint, the Cayman GT4 will also be an epic improvement over the current car. It will utilise a modified front bumper with a new splitter and larger air intakes as well as new wheels, a functional rear diffuser and a huge rear wing. It will also utilise a new dual exhaust system and feature beefed up brakes and hardcore track-tuned suspension.
[Via Motor Authority]