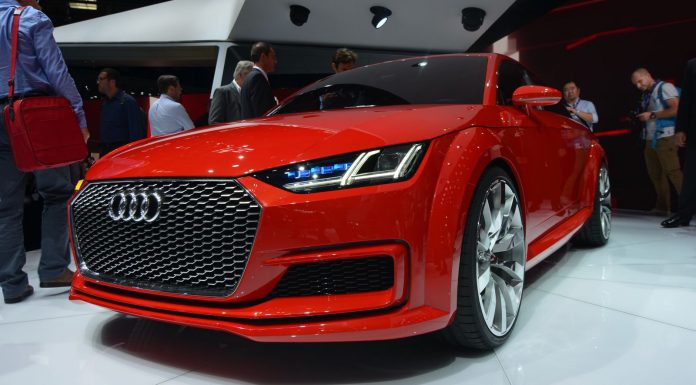 The 2015 Audi TT Sportback Concept is currently celebrating its world premiere at the Paris Motor Show 2014. It is one of just numerous new variants/body styles of the latest-generation TT revealed this year. Intrigued by this, we went in for a closer inspection.
The Audi TT Sportback Concept maintains many of the same styling cues as the updated TT range. Consequently, it features nearly identical headlights as well as Audi's new single frame front grille. The honeycomb grille insert is now finished in dark aluminium to set it apart from other TTs. The tweaked headlights also feature laser technology with each headlight supporting a module of four high-power LEDs.
While the front of the concept is clearly reminiscent of the TT coupe, the rear-end is completely unique with brand new taillights the most eye-catching new element. The rear fascia is also different with it incorporating a special bumper and twin tailpipes. The overhangs both at the front and at the rear are very short with the sweeping and steeply raked C-pillars and rear window giving the car a unique flow.
Powering the Audi TT Sportback Concept is the same 2.0-litre TFSI engine previewed earlier this year in the Audi TT Quattro Sport Concept from the Geneva Motor Show 2014. As a result, it produces an identical 400 hp as well as 450 Nm of torque. When it is all said and done, the new TT concept will sprint from a standstill to 100 km/h in a mere 3.9 seconds. Despite the immense power and torque produced by this engine, it returns an average of 7.0-litres per 100 kilometres and emits 162 grams of CO2 per kilometre.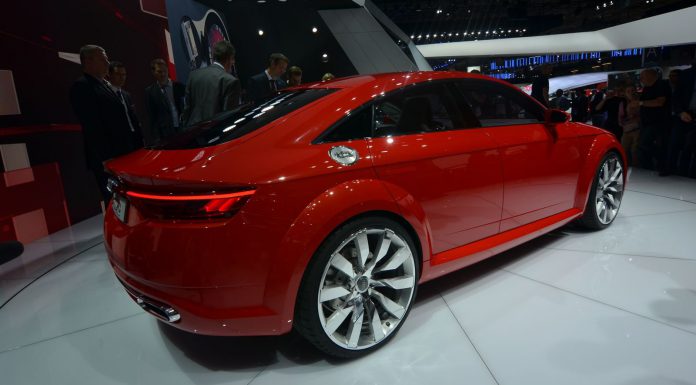 For more about the 2015 Audi TT Sportback Concept, be sure check out our previous post. For more from the Paris Motor Show 2014, head on over to our dedicated news channel.