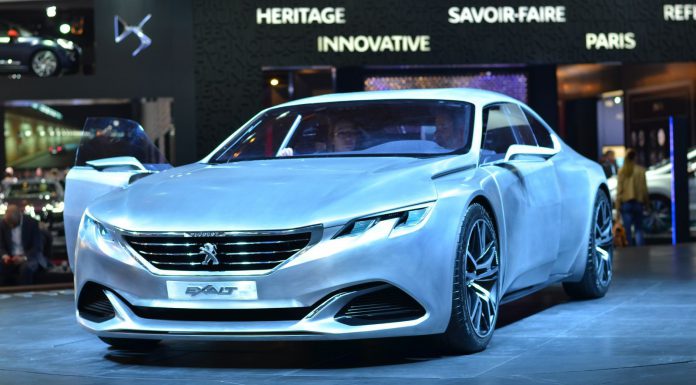 The latest in a long line of interesting Peugeot concept cars has been unveiled at the Paris Motor Show 2014 in the form of the Peugeot Exalt Concept Car. Complete with a hybrid powertrain as well as bold and futuristic styling, the Exalt provides a glimpse of what the automaker is capable of. We headed to the stand for a closer look.
Continuing on from the Peugeot Onyx Concept from back in 2012, the Exalt Concept Car features a petrol-electric hybrid drivetrain delivering a combined 340 hp. This drivetrain consists of a 1.6-litre turbocharged engine produced by Peugeot Sport delivering an impressive 270 hp which equals almost 170 hp per litre! Joining the small internal combustion engine is an electric motor which also recharges the battery through an energy-recovery braking system. Power is sent through all four wheels with the Peugeot Exalt Concept Car tipping the scales at 1700 kg.
Generally speaking, the Exalt features a low 1.31 metre high roof, a slim profile alongside large 20-inch wheels. The long bonnet grows out of a particularly expressive front end, where the twin headlamps, set into the bumper, integrate the brand's recognisable signature lighting. In the middle, the distinctive grille emerges from the bodywork and provides the backdrop for the Peugeot Lion badge. At the bottom, the flow of air supplying the engine is divided by fins housing the LED indicators.
To improve the drag coefficient, the rear of Exalt is trimmed in 'Shark Skin', an efficient textile that draws on 'bio-mimicry' to create a technical grain structure that markedly improves the aerodynamic performance of the vehicle and reduces fuel consumption.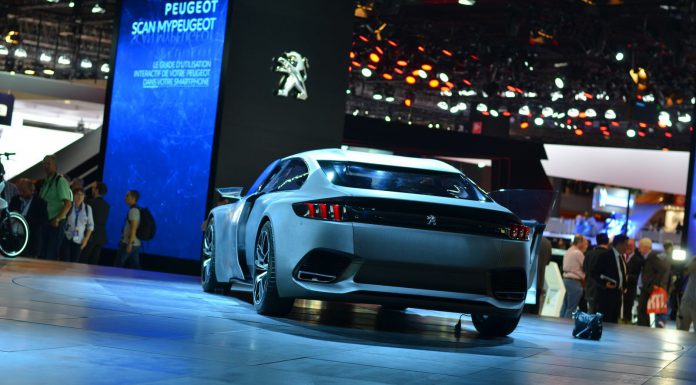 For more details about the Peugeot Exalt Concept Car, be sure to check out our previous post. For full coverage from the Paris Motor Show 2014, head on over to our dedicated news channel.