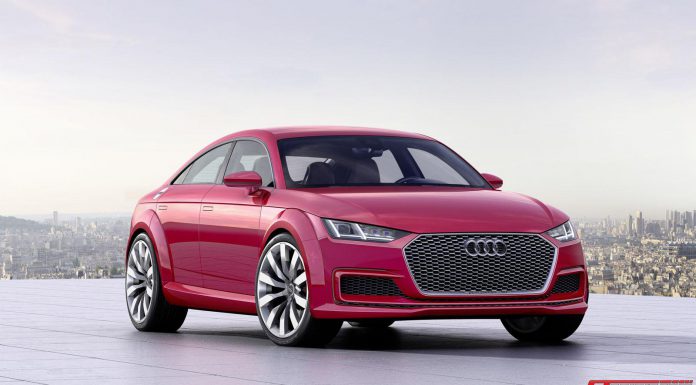 Not long after official sketches of it leaked, the 2015 Audi TT Sportback Concept has been officially unveiled at the Paris Motor Show 2014. As yet another body style of the latest-generation TT, the Sportback Concept perfectly showcases just how the German marque could expand the existing TT lineup.
The vehicle features five doors and seats four in supreme comfort. All up, the Audi TT Sportback Concept measures 4.47 metres in length, 1.89 metres wide and just 1.38 metres high. All told, it is 29 centimetres longer than the standard Audi TT Coupe and Roadster with the wheelbase increased by six inches up to 2.63 metres.
The Audi TT Sportback Concept maintains many of the same styling cues as the updated TT range. Consequently, it features nearly identical headlights as well as Audi's new single frame front grille. The honeycomb grille insert is now finished in dark aluminium to set it apart from other TTs. The tweaked headlights also feature laser technology with each headlight supporting a module of four high-power LEDs.
While the front of the concept is clearly reminiscent of the TT coupe, the rear-end is completely unique with brand new taillights the most eye-catching new element. The rear fascia is also different with it incorporating a special bumper and twin tailpipes. The overhangs both at the front and at the rear are very short with the sweeping and steeply raked C-pillars and rear window giving the car a unique flow.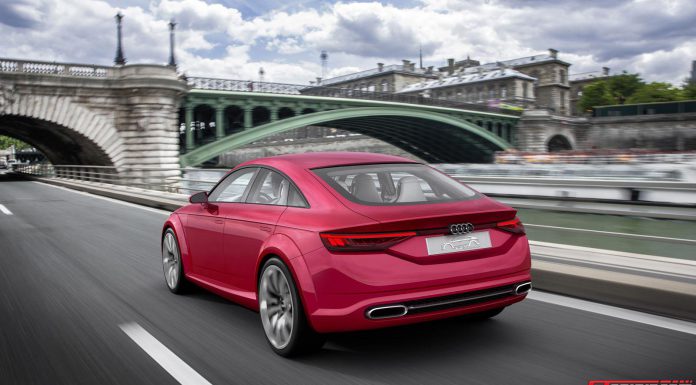 Powering the Audi TT Sportback Concept is the same 2.0-litre TFSI engine previewed earlier this year in the Audi TT Quattro Sport Concept from the Geneva Motor Show 2014. As a result, it produces an identical 400 hp as well as 450 Nm of torque. When it is all said and done, the new TT concept will sprint from a standstill to 100 km/h in a mere 3.9 seconds. Despite the immense power and torque produced by this engine, it returns an average of 7.0-litres per 100 kilometres and emits 162 grams of CO2 per kilometre.
As a member of the EA888 family of engines, this particular unit has a comprehensive package of high-end technologies on board. The camshaft adjustment on the intake and exhaust as well as the Audi valve lift system, which varies the lift of the exhaust valves in two stages, ensure good filling of the combustion chambers.
In the cabin, the 2015 Audi TT Sportback Concept is clearly reminiscent of the latest TT. This means it maintains the large 12.3-inch MMI monitor as well as air vents inspired by the jet engines of airplanes.