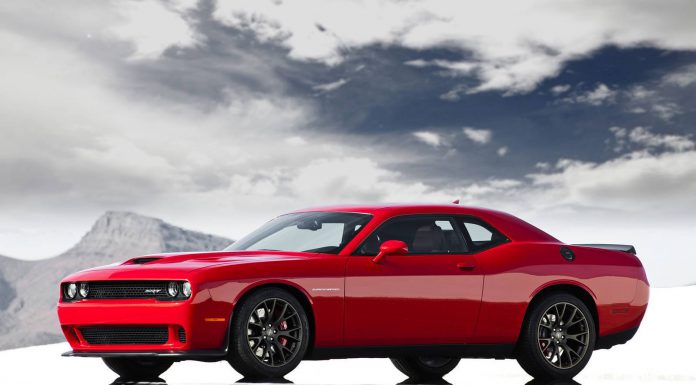 Dodge has confirmed that only its best-selling dealerships across the U.S. will be eligible to order the 2015 Dodge Challenger SRT Hellcat with orders opening today.
According to Dodge boss Tim Kuniskis, dealer allocation will be based on the number of Dodge models the dealership has sold in the last 180 days. That includes all Dodge models from the Dart through to the mighty Viper.
While speaking with Automotive News, Kuniskis said, "You sell a lot of Darts for me, Journeys for me, Durangos for me, I'm going to give you the rights to this one, too, because this is a halo of the brand."
Kuniskis also said that he has no problem with a selection of dealerships marking up the car based on local demographics but confirmed that those who sell the most and the fastest, will receive higher numbers of the halo Dodge muscle car.
"If you want to market-adjust the car, that's your right. But if your days-on-lot goes above what the other guys that are selling them at MSRP is, they will end up earning the allocation because their days-on-lot will be lower. They're turning the inventory. Some dealers are going to have heartburn with that.
"I want this car out in the marketplace so that somebody is sharing it with 50 of their friends and elevating the brand. That's what I want; not sitting in your showroom with a rope around it. I want people driving these cars, talking about them, revving the engine and having everybody go 'I want one of those.' That's why you build a halo car," he said.
Under the hood, the 6.2-litre supercharged V8 engine pumps out a truly spectacular 707 hp and 650 lb-ft of torque! To help limit power of the new SRT Hellcat in not-ideal situations, it comes standard with a black key fob which limits power to 500 hp while the red key fob unlocks the full potential of 707 screaming horsepower! This power comes courtesy of a 6.2-litre HEMI V8 supercharged engine which we now know is the most powerful engine the Chrysler Group has ever produced. According to first reviews of the car, the engine is just as exceptional as it sounds!
[Via Automotive News]