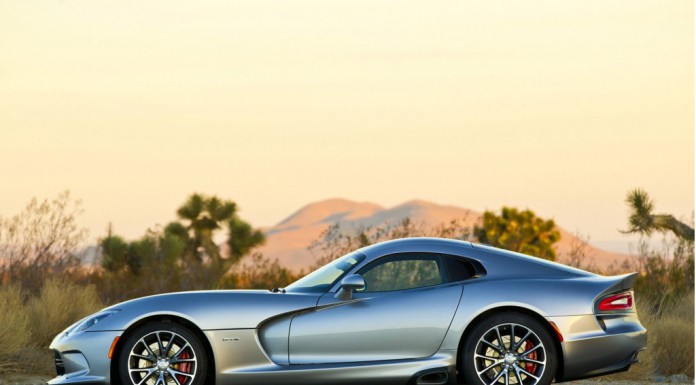 For the 2015 model year, the Dodge Viper SRT received a 5 hp bump in power bringing the final figure up to 645 hp. While that isn't much, it could be pointing towards even more powerful versions of the Viper in the future.
According to Automotive News, the 8.4-litre V10 of the Dodge Viper is set to be further upgraded for the 2016 model year. While it remains unclear just how much further power may rise, it would not at all surprise us if it edged much closer to the 700 hp mark and according to previous reports, such power could be achieved via a brand new engine.
These suggestions indicate that a supercharged V10 Dodge Viper could be in the works. It is speculated that a selection of supercharged V10 engines were recently delivered to Dodge. Due to the addition of forced induction, power of the Dodge Viper SRT could be uprated in a major way with upwards of 800 hp more than achievable. This could re-spark customer interest in the Viper. After all, the staple American 'supercar' has been severely lacking in sales with production of it having to be stopped on two separate occasions in recent months.
In order to cope with the extra power, a new transmission may need to be adopted. Allpar points out that the Viper's current Tremec TR-6060 gearbox can handle at most, 650 lb-ft of torque and a supercharged 8.4-litre V10 could comfortably deliver more than that. As a result, a transmission like the Tremec Magnum XL could be adopted with it good for 700 lb-ft.
For those wondering why Dodge simply won't use the 707 hp and 650lb-ft, supercharged 6.2-litre V8 of the Challenger and Charger SRT Hellcat's for the Viper, such an engine cannot fit in the Viper's engine compartment because it is too tall. A supercharged V10 specifically designed for the Viper could eliminate such problems.
[Via Automotive News]