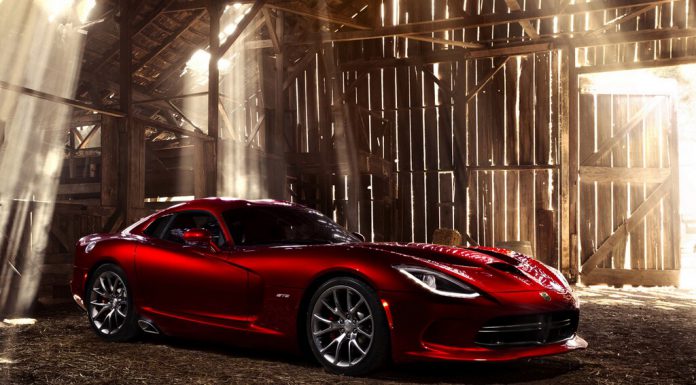 The Dodge Viper has always been the most powerful car offered by Dodge. Following the recent unveiling of both the 2015 Dodge Challenger SRT Hellcat and Charger SRT Hellcat complete with their 707 hp, 6.2-litre supercharged V8, the current Viper has been topped. According to the latest word however, the Viper could soon reclaim its position as Dodge's most powerful model.
According to new reports, a selection of supercharged V10 engines have been delivered to Dodge. These engines are presumably being developed and tested on the current SRT Viper (soon to be Dodge Viper) before a new range-topping Viper is offered.
As it stands, the 8.4-litre naturally-aspirated V10 of the Viper delivers an impressive 640 hp and 600 lb-ft of torque. Thanks to the use of supercharging however, that figure could easily reach the 800 hp mark and could re-spark customer interest in the Viper. After all, the staple American 'supercar' has been severely lacking in sales with production of it having to be stopped on two separate occasions in recent months.
In order to cope with the extra power, a new transmission may need to be adopted. Allpar points out that the Viper's current Tremec TR-6060 gearbox can handle at most, 650 lb-ft of torque and a supercharged 8.4-litre V10 could comfortably deliver more than that. As a result, a transmission like the Tremec Magnum XL could be adopted with it good for 700 lb-ft.
In case you need reminding of how potent the Hellcat is, the Charger SRT Hellcat demonstrates its potency perfectly. The 2015 Dodge Charger SRT Hellcat makes is the most powerful production sedan in the world easily taking the crown from the 625 hp Mercedes-Benz S65 AMG. As a matter of fact, the Charger SRT Hellcat completes the quarter mile in 11 seconds flat on street tyres, hits 96 km/h (60 mph) in 3.7 seconds and reaches a top speed of 328 km/h (204 mph). It will also go from a standstill to 160 km/h back to zero in under 13 seconds. The Charger SRT Hellcat includes two key fobs with the red one unlocking all 707 horsepower!
[Via Allpar]