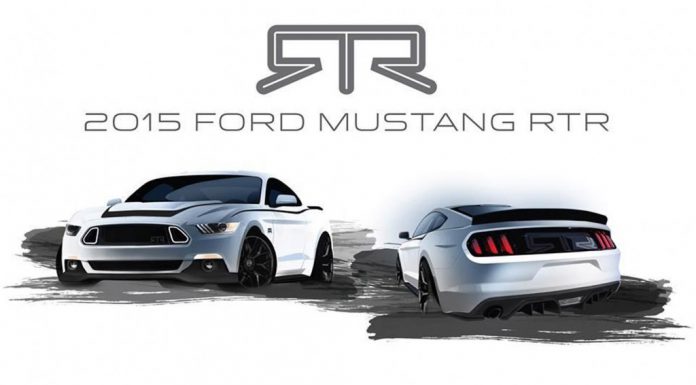 Designed by Vaughn Gitten Motorsport, the current Ford Mustang RTR is the vision of World Champion drifter and Mustang driver Vaughn Gitten Jr. Now, a teaser image previewing the 2015 Ford Mustang RTR has been revealed prior to the kit hitting the market in the January of next year.
Unlike the current Mustang RTR which is only available in North America, the 2015 Ford Mustang RTR will be available to Mustang customers around the world. This is because Ford took the decision to make the latest-generation Mustang a truly global muscle car and as a result, also decided to make it available in right-hand drive from the factory for the very first time.
As the teaser image highlights, the 2015 Ford Mustang RTR features a host of rather dramatic visual modifications setting it apart from the existing Mustang variants available. Such modifications include the fitment of a new front fascia with a redesigned bumper, air intakes, splitter, grille and two interestingly shaped daytime running lights incorporated into the grille. At the rear, we can see an aggressive diffuser, a prominent bootlid lip spoiler, a new bumper as well as dual exiting tailpipes. Additionally, a diffuser mounted reversing light will be installed onto the new Mustang RTR. As you would imagine, a host of RTR logos and badges will also feature on the muscle car.
In a statement, Gittin Jr. said, "Ford's Mustang team has done an incredible job with the new 2015 Ford Mustang. Without a question, the performance and overall presence of the new Mustang RTR will impress and keep a smile on our customers' faces whether cruising the streets or getting crazy on the track."
For the current Mustang RTR, two different packages are available. The first includes a host of visual modifications and is available to all Mustang versions. The second package incorporates the same visual changes along with a set of upgrades for higher-spec Mustang models.